Former Governor Hugh Carey remembered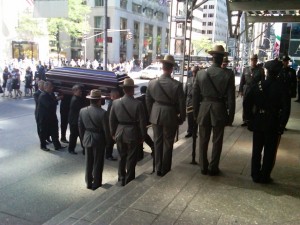 At a solemn but celebratory ceremony held at St. Patrick's Cathedral this morning, friends, family and former political colleagues of Hugh Carey--the man credited with saving New York City and State from financial doom in the 1970s--honored the former congressman and governor for his dedication to family and life-long service to his city, state and country.
"He saved New York City and State, and protected the honor of the whole country," former governor Mario Cuomo said shortly before the service. "He was the most effective governor in modern history."
Congressman Charles Rangel of Manhattan remembered his predecessor on the powerful Ways and Means Committee as a proud Brooklynite and American who guided Rangel during his early years in congress. "He and Tip O'Neal--anything good that I am today is because of both of them," Rangel said. "Everyone is going in and smiling. They say something like, this is a sad day and then immediately after that they say, he sure got a good run. And he did--he loved every day of life."
On the steps of the Catholic cathedral, Ed Cox, the head of the Republican Party in New York, called him a "great talent" who "just wanted to serve the state." Former mayor Ed Koch described Carey as a "an extraordinary man" and joined the chorus of admirers who lauded Carey for his singing. "He had a terrific sense of humor and was a marvelous Irish tenor," Koch said, who went on to praise Carey's ability to get political adversaries to sit together at the negotiating table.
During the service itself, clergymen and Carey's family illuminated both the personal and political--as well as the spiritual--aspects of the former governor. Edward Egan, the former Archbishop of New York, gave the homily, calling Carey a "great New Yorker and a truly great man." Carey was remembered as a deeply caring and loving husband and father to his 14 children, as well as a decorated veteran of World War II, whose work on behalf of the developmentally disabled has been overshadowed by his work saving the state.
"He was a prophet for our times, who spoke and lived the truth with wisdom and strength," Egan said.
Both Governor Andrew Cuomo and Mayor Michael Bloomberg were on hand, as were many of Carey's children, grandchildren and great-grandchildren. He passed away this past Sunday at the age of 92.