Queens Dems: There was no secret Meeks meeting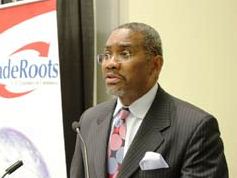 According to a number of individuals, both elected officials and long-time political observers, the secret meeting held to decide the successors to embattled Queens Congressman Greg Meeks never happened.
"The article was bullshit," said one Democratic consultant, who asked not to be identified.
One elected official who would potentially have a lot to gain if the Post report was true also denied the meeting took place. Councilman Leroy Comrie, who was said to be in line for a promotion to the state Senate after Malcolm Smith ascended to Congress, called the story a "fabrication", saying he couldn't imagine who would have been the Post's reported sources.
"That's just never the way it works," Comrie said. He went on to say that support for Meeks continued, and talks about him stepping down were unfounded. "No one has had any discussion--serious discussions, formal or informal--other than being supportive of him," the councilman said.
Yesterday, Queens County Democratic leader and central figure to the Post story, Congressman Joe Crowley, also denied any such meeting took place. While all those interviewed for this article agreed, it didn't stop some from agreeing with the central thesis of the article: Were Meeks to be forced or persuaded to step down, the county leadership would be left with slim pickings.
Malcolm Smith, himself, came under heavy scrutiny for his connections to the Aquaduct racino scandal of last year. His associations with people tied to the winning developer, AEG, have left many ethical questions unanswered. Even if the supposed meeting never took place, the cast of characters involved left more than one person questioning the decision making process of the Queens Democratic Party at the highest levels.