Nadler: Opposition to Weprin over Israel "nonsensical"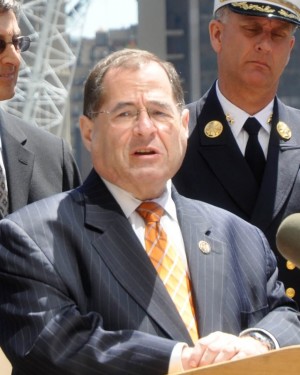 Assemblyman David Weprin is getting push-back support on the issue of Israel in his congressional race. Congressman Jerrold Nadler, whose 8th district also has a large orthodox Jewish population, today came out in support of Weprin, and dismissed the idea of making the race a referendum on President Obama's support of Israel, as suggested by former mayor Ed Koch and Brooklyn Assemblyman Dov Hikind.
Ed Koch earlier this week indicated he would not be supporting Weprin in the race as a way of sending a message to President Obama on Israel. "If Jewish New Yorkers and others who support Israel were to turn away from the Democratic Party in the congressional election...it might very well cause President Obama to change his hostile position on the state of Israel," Koch was reported as saying by the New York Post.
"[V]oters in New York's 9th Congressional District should judge the candidates on their merits and not based on the positions of others. David Weprin has always been an unyielding, stalwart friend of Israel, and it is completely nonsensical to oppose a vigorous supporter of Israel in an attempt to show support for Israel," Nadler said in a statement. The congressman's office said he has endorsed Weprin in the race.
According to The New York Observer, Assemblyman Hikind considered running for the seat "as a Republican...had planned to make the race in the heavily-Jewish district a referendum on Obama's Israel policy."
Weprin will also be able to count on the support of New York's senior United States senator, Charles Schumer. While he has not officially endorsed Weprin's campaign, Senator Schumer's office said the senator supports Weprin's campaign and will make his endorsement official soon.