Voters have mixed views on teachers, but not Cuomo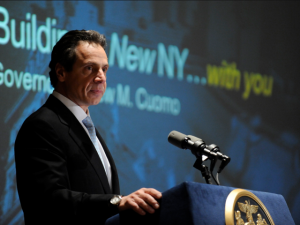 Courtesy of the Governor's office.
In a new Quinnipiac University poll, voters provide a nuanced view of public school teachers. Overall, a plurality of voters (49 percent)--and a majority (54 percent) of those who are parents with kids in the system--have a favorable view of teachers. But half of them overall, and a majority (53 percent) of parents, think their union plays a negative role in the state's education system.
But when public school teachers are put head-to-head against Governor Andrew Cuomo to see who voters trust more to protect the interests of public school students, the Governor gets voters' support 50 – 38 percent, according to the poll.
"'Consider me the lobbyist for the students,' Gov. Andrew Cuomo said last month, and New Yorkers believe him," said Maurice Carroll, director of the Quinnipiac University Polling Institute, in a statement. "New York City voters did not provide that level of trust for Mayor Michael Bloomberg when they told us they trusted the teachers' union more than the mayor to look out for the kids."
Overall, those polled gave Cuomo a slim edge of approval for his handling of education at 45 – 42 percent. But when it comes to specific proposals, the Governor gets high grades on his agenda items:
64 – 31 percent support for merit pay for "outstanding" teachers;
67 – 26 percent, including 58 – 34 percent in union households and 73 – 25 percent among public school parents, support for making it easier to fire teachers;
87 – 9 percent, including 79 – 15 percent in union households and 89 – 9 percent among parents, support for basing teacher layoffs on performance rather than seniority.
The poll was taken as the teachers union and the City of New York struggle to reach an agreement on a teacher evaluation system. Cuomo has said he will impose his own system if an agreement is not met.
The poll was conducted between February 8 and 13. The survey consisted of 1,233 New York State voters and has a margin of error of plus or minus 2.8 percentage points. Both landlines and cell phones were used to reach participants.