Times reporter calls Post snow coverage 'tabloidy'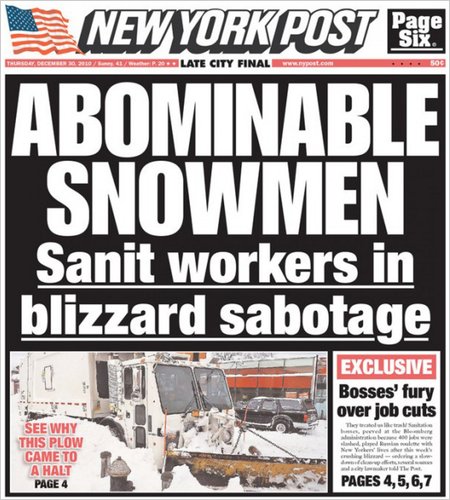 The New York Times ran a story last week questioning the claims made by a City Councilman who said sanitation workers intentionally did a poor job of removing snow during the Christmas weekend blizzard.
Now, a reporter for the paper is questioning the coverage surrounding that claim.
The New York Post first reported the claims by Councilman Dan Halloran, but, according to Times metro political reporter Michael Barbaro, the Post has not been as thorough in reporting on the state of the investigation which has stalled, amid a lack of verifying evidence.
Speaking on the New York Times Close Up (a New York 1 show featuring Times reporters discussing stories of the week), Barbaro said, "This was a really tabloidy moment, in the coverage of the blizzard."
"And, you'll be holding your breath for a very long time if you wait for the New York Post, whichoriginally reported this - sort of salaciously and loudly on the front of their paper - to come back at it and say 'the person we quoted as saying there was a deliberate slowdown, you know, is withering under investigation, [there's] no evidence of it.' "
Then, referring to his colleagues, Russ Buettner and William Rashbaum's story, Barbaro added, "The reality is, it took some really enterprising reporters to fact-check a claim that rocketed around the world and everyone took to be the truth…and now it seems to be crumbling."
As Josh Benson and I discussed earlier, whether Halloran's claims are verified by investigators or not, one thing is certain: it has taken the spotlight off Mayor Bloomberg's handling of the storm.
UPDATE: Columbia Journalism Review's Ryan Chittum piles on, criticizing how easily the story got picked up, especially on cable news.
UPDATE II: Two other things worth noting: First, the Post coverage wasn't based solely on Halloran's comments. Later stories quoted local residents and even another lawmaker, Councilwoman Tish James, who said on a radio show in December, "I do believe that there were a few [workers] that in fact engaged in a slow down." Democratic State Senator Malcolm Smith said he "heard it from sanitation workers that there was a concerted effort" to slow the street plowing.
Secondly, investigators have not commented publicly about this ongoing investigation, so, the official ruling hasn't come in yet.