The Empire Guide to Winning a Special Election in New York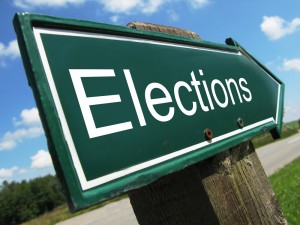 Shutterstock.com / Pincasso
Years like 2011 are usually the lull before the political storm. There's the big quadrennial presidential year (2008), which brings out the most voters and puts the most candidates on the ballot, from the commander-and-chief to your local assemblyman.
Then there's the citywide elections (2009), headlined by the mayoral race and giving voters a chance to pick their city councilmembers. These are followed by another big Federal election year (2010) for Representatives to the house and, every six years, a Senator.
This year was supposed to be a sleepy political off year, with only the most low profile of local races bringing out the die-hard believers in the electoral process.
But not this year. Here in New York City, a number of special elections will be held on next Tuesday, September 13, to fill vacant seats in the New York State Assembly and one in the United States Congress. These ad hoc scrambles are spectacles of arcane electoral rules, political opportunism, and questionable democratic value. They can also be the launching pads of long political careers and shakeups of the established political order.
But understanding these political peculiarities, and the special circumstances surrounding special elections, can be confusing. So we thought, why not lay out just how it all works?
In that spirit, ladies and gentlemen, we present to you the Empire's Guide to Winning a Special Election in New York.
Someone's Got To Go
Special elections are the direct result of an elected official leaving their office before the end of their term. This can happen for any number of reasons.
In the case of Anthony Weiner, the former congressman took himself out of office after a scandal. New York has had a disquieting run on these sorts of vacancies lately. Weiner resigned as representative for the 9th Congressional District on June 21.
In the special election in the 27th Assembly District in Queens, the long serving representative, Nettie Mayersohn, retired back in April. She entered the Assembly back in 1985, and had been reelected to another two-year term in 2010.
An elected official can also find a new job. Two members of the Assembly, Darryl Towns and Audrey Pheffer, did so, leading to special elections in their districts. Towns took a job overseeing housing with Governor Cuomo's administration. Pheffer is now the Queens county clerk. Their vacancies now need to be filled.
Setting the Date
In New York, the governor is charged with deciding how vacant seats get filled. In theory, the governor could choose to treat a vacant seat like any other election, with party primaries that allow voters to decide which candidates face off in a general election in November.
The governor also has the power, under state and Federal law, to set a date for a special election that forgoes a primary and allows local party leaders to pick who gets to be on the ballot. This is the path Governor Andrew Cuomo chose to pursue, despite calls from good government groups to open up the process.
"I think that for whatever reason this governor did not want to take on the political power structure at that particular juncture," said Susan Lerner, executive director of Common Cause New York, which opposed the governor's handling of the special elections. "He could have allowed the people more participation in this election than ended up being the case."
On July 1, Governor Cuomo set the date to fill vacant seats for September 13, 2011, the primary date for regular elections throughout the state.
Take It Up With the Boss
Without a primary process, the decision as to who will represent parties on the ballot is left to the respective local leadership of each party. More specifically, the party's executive committee in each county involved get together and decide who will be the candidate. There is no requirement for the county executive(s) to consult registered members of their party.
Practically speaking, this means people who are in good with the party's leadership tend to be picked. Many races in New York City are decided in the Democratic Party primaries, as general election races are rarely competitive. Without a primary, the leadership of the party is essentially hand-picking the next representative in that seat.
For example, in the 9th Congressional District, Assemblyman Vito Lopez and Congressman Joe Crowley, the respective heads of the Brooklyn and Queens Democratic county organizations, agreed upon Assemblyman David Weprin as their candidate to replace Anthony Weiner.
"Inherently taking the vote to the people, to a broader swath of voters, is by definition more democratic than a selected group of county committee folks making that decision," said Democratic political consultant Scott Levenson.  "And I think that's why you see a number of progressive electeds calling for a change in how candidates are chosen for a special."
It's a Sprint, Not a Marathon
In special elections, campaigns have only a few weeks to fundraise, organize and get the word out about their campaigns. Additionally, with so few—if any—other races happening, it is entirely up to the campaign to generate voter interest. Depending on what type of general election it is, voter turnout can reach as high as 60 percent. In special elections, if more than 20 percent of the voters in a district turn out on Election Day it's considered good. In a district of 20,000 voters, that means about 4,000 people will show up. A campaign, then, needs to get 2,001 people to vote for their candidate and they can win.
The calculus in a special election becomes very restrictive: a short amount of time, limited resources, and a small pool of voters. Targeting what campaign professionals call "superprimes"—voters who show up for every election—becomes crucial. Spending time and money targeting irregular voters or, worse, people who have never voted before, becomes almost pointless.
Each campaign has to balance outreach with targeting but going after only the surest of voters becomes critical, meaning large portions of the overall voting public can be virtually ignored.
"You look at the core turnout of the district: who are the superprimes who are absolutely going to vote no matter what, and how do we get our candidates name in front of them. And then who are the folks we can motivate to come out and based on what," said Doug Forand, founding partner with the campaign consulting group Red Horse Strategies. "The targeting becomes critical, but it also becomes critical that you do it smartly and not shoot yourself in the foot by targeting too narrow a spectrum of the electorate."
After the Gold Rush
Depending on the race, winning a special election can mean having to run again in just a few short months in a general election. This will be the case for the candidates in all of the assembly races. It can also mean holding a seat that might cease to exist soon, as could be the case, post-redistricting, for whoever becomes the next congressman in the 9th District.
More often, though, winning in a special election means a long political life. According to a Citizens Union report, 26 percent of the 212 New York State legislators that took office in January 2011 were first elected through a special election. New York State Senator Carl Krueger, who has been indicted on corruption charges, won his seat through a special election in 1994. Jeffrey Dinowitz, a Bronx Assemblyman, has been in office since 1994 after winning a special election. Queens Congressman Gary Ackerman has been in office since 1983 after winning a special election.
Next Tuesday three new members of the State Assembly and a new congressman will emerge from this low turnout, backroom dealing process. It may also be the start—or continuation—of a long career in politics for any one of them.