Cuomo, FEMA take air tour of Irene-ravaged Mohawk Valley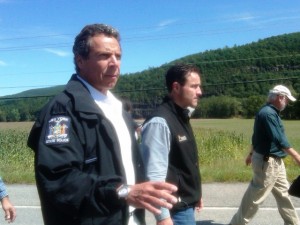 By Karen DeWitt, WXXI Capitol Bureau Chief
Governor Cuomo and a top FEMA official surveyed the damage caused by flooding in the Mohawk River and Schoharie Valley earlier today. The Mohawk River is seeping into Schenectady, flooding the historic stockade neighborhood and expected to break records set back in 1938.
In the Schoharie Valley, farms and homes are inundated from the churning brown waters. Governor Cuomo, who met with local officials, says it's devastating.
"We paid a terrible price here," said Cuomo. "And many of these communities are communities that can least afford to pay a terrible price."
The governor brought along FEMA regional director Lynn Canton  to see the damage first hand, and to ask for aid, who said, after viewing the devastation, "it's the story the world has missed". Cuomo said the state would find a way to pay to repair the numerous roads and bridges damaged by the storm.