Groups layout support for pension reform as Cuomo escapes the shill label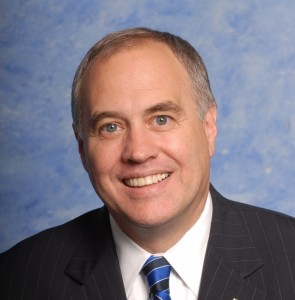 Courtesy of the Comptroller's office
Pension reform is one of Governor Andrew Cuomo's highest priorities this year. In both his state of the state speech, and more formally in his budget proposal, the Governor laid out his vision for fixing what many perceive to be the state's broken and unsustainable pension system.
Cuomo would give future employees the option of participating in a defined contribution plan, which works like a 401(k) and would be similar to the system SUNY and CUNY use today. It's one of a couple reforms instituted under the Governor's new Tier VI proposal.
On the other side of things you have State Comptroller Thomas DiNapoli. The Comptroller has called basing policy on the current state of the pension system—still recovering from the financial sinkhole of the last few years—"not the smartest move." In an op-ed today, he calle allowing a 401(k)-style option for state employees "a false choice" which would "undermine [new employees'] long-term retirement security."
"New York's proposed move to a 401(k)-style plan just doesn't make sense," DiNapoli said in the op-ed.
Over the past week think tanks, good government groups and research institutes have weighed in on the debate. In general, they're supportive of the Governor's proposals to change the state's pension system—but in various ways, and in varying degrees.
A Bridge Not Far Enough
The right-leaning Manhattan Institute came out with a "this is great but…" critique of the Governor's plan last week. It acknowledged that the move to a 401(k)-type system is a step in the right direction but not one that's big enough.
According to the report, a 401(k) plan for government employees is not the answer—nor is it what the SUNY and CUNY systems use. Instead, it argues, Cuomo needs to actually use the nonprofit-style investment systems the state school system uses.
"In his 2012-13 budget presentation, Governor Cuomo said he was advocating 'a voluntary option for a defined-contribution plan that follows the TIAA-CREF type model'," McMahon and coauthor Mike Quint write. "However, his bill language does not go far enough to achieve that objective."
While they want to see the state move away from the traditional pension system, McMahon and Quint say one that mandates a higher rate of investment and more incentives to save, as well as better safe guards and oversight of the funds, is a better solution.
Making Employees Pay More
The Citizens Budget Commission, a right-of-center think tank, took on another element of Cuomo's reform plan: increasing the mandatory levels of future employees who choose to stay in the conventional pension.
"Increasing the employee contribution rate for public pensions in New York State is not unreasonable," CBC authors Elizabeth Lynam and Melinda White write. "Comparisons with nationwide norms for employee contributions show the basic proposal to increase employee contribution rates to a range of 4 to 6 percent would move New York toward the middle of the pack among states while providing much-needed relief to local government leaders and taxpayers."
The Testimonial
Over at the centrist Center for Government Research, CGR's lead economist Kent Gardner wrote a blog post extolling the virtues of the SUNY-style pension system via his personal experience.
"The state's defined benefit plan can be a life sentence for public employees. In my case, I was invited to come to join CGR in 1991 and resigned my tenured faculty appointment with SUNY. Had I selected the state's defined benefit plan, those years would have contributed little to my retirement," Gardner writes.
"Many of my friends in state service confess that they would love to explore a job in the private sector—but that leaving before age 62 or until they've reached 30 years of service is just too costly. And with that attitude, perhaps their agency would also like to see them go. But instead they hang onto each other, like a couple that won't break up because the sex is still good."
The Employers Weigh In
Meanwhile, a group of local lawmakers—led by New York City Mayor Michael Bloomberg—announced the formation of a bipartisan coalition, called New York Leaders for Pension Reform, to push for the Governor's pension reform agenda.
"Despite opposition to reform by Comptroller DiNapoli and others, members of the coalition know first-hand how runaway local pension payments have already significantly reduced localities' ability to fund education, public safety, social services, economic development and other services – and how skyrocketing costs threaten to force severe budget cuts or tax increases in the years ahead," the release announcing the group said. "That is why local government leaders are demanding action from the Legislature now."
A Pile A Mile High
Speaking of DiNapoli, the Comptroller's day started off getting pilloried for the support he receives from unions throughout the state. A Daily News piece this morning noted that DiNapoli received a quarter of his campaign contributions from unions since taking office in 2007. The amount from public-sector unions—the people who have DiNapoli overseeing the management of their retirement funds—accounted for about 16 percent of his donations.
The article elicited a response from the Conservative Party, who called on the Comptroller to return donations from unions and that, if he refused, "it certainly looks like it is a pay-for-play scheme perpetrated on unwilling taxpayers."
A Shill By Any Other Name...
What's interesting in this dynamic is how DiNapoli gets cast as a shill for labor. Yes, DiNapoli has received a significant amount of campaign money from labor—as many New York State politicians do. But in this pension reform dynamic, it's not DiNapoli who's received the most from a sector that would benefit from his position.
In the end, financial firms would love to see millions, if not billions, in retirement funds come their way in a semi-privatized, 401(k)-style system. Business interests, and their allies in groups like the Manhattan Institute, have been the most vocal in supporting Cuomo's pension reform.
They've also been generous donors to Andrew Cuomo's campaign. According to analysis of campaign donations done by NYPIRG, Cuomo received 33 percent of his donations directly from businesses in the last election. So if Thomas DiNapoli is a shill for labor, does this then make Andrew Cuomo a shill for the business community?