Public Advocate de Blasio Tweeting it out on Citizens United anniversary eve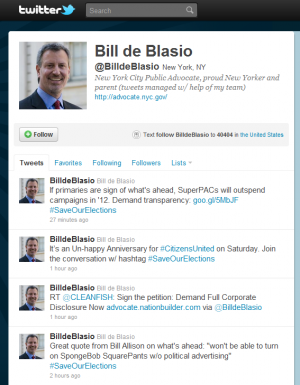 Tomorrow is the two-year anniversary of the Citizens United Supreme Court case, which allows an unrestricted flow of money into the political process and has sent campaign finance advocates into a spasm of rage.
Public Advocate Bill de Blasio has been as vocally opposed to the court's ruling as anyone, and, to mark the anniversary, he's taking his case to the Twitter world. Beginning a little over ten hours ago, de Blasio started a 24-hour-Tweetathon to protest the case.
It's all part of a campaign "urging citizens to join him in demanding that corporations once and for all come clean and disclose their political spending." It's called Save Our Elections and has a website (of course), and a big supporting cast, such as Common Cause NY, Citizens Action in New York, and a host of progressive City Councilmembers.
"I am launching this effort because as Public Advocate it is important that I help give citizens the opportunity to voice their contempt for corporate spending in our elections and effect change," de Blasio said in a statement. "Corporations are on the verge of buying the Oval Office right out from under our noses thanks to the unlimited amounts of secret cash they are now allowed to funnel into elections. It is imperative that we send a clear message to the SEC that it must use its power to keep publicly traded companies honest and accountable if they're going to weigh in on elections."