Elected officials blast Bloomberg over midnight raid on OWS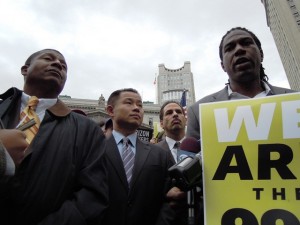 City and State elected officials stood with labor leaders outside the State Supreme Court in Lower Manhattan—near where the arrested Occupy Wall Street protesters are being processed—to decry Mayor Michael Bloomberg's eviction of protesters early this morning in Zuccotti Park and affirm the status of the movement as far from over.
"Today is not the end. Today is in fact just the beginning," Manhattan Borough President Scott Stringer told those assembled.
"What happened this morning was wrong. It was unnecessary. It was provocative. And it will only create more conflict," said Public Advocate Bill de Blasio. "Other cities have managed to find a positive resolution, including looking at alternative sites [for the demonstrations]. The Mayor and his team never have done that. And that's a mistake."
While speaker after speaker lauded the protesters and their self-designated fight for the 99 percent, Mayor Bloomberg was heavily criticized for his actions.
"Make no mistake about it: this was an act of cowardice, on so many levels," said Councilmember Jumaane Williams, whose office organized the press conference. "The mayor has behaved as a coward would."
"There was no compelling reason for City Hall to take this action," said City Comptroller John Liu, almost sounding slightly perplexed. He accused the Mayor and the police department of engaging in "shock and awe" tactics.
"Under the cover of darkness, in the absence of the glare of the media, the Mayor of the City of New York turned Zuccotti Park into a police state," said Councilwoman Letitia James ominously.
The press conference was organized in the middle of Foley Square. Behind the speakers, a court was arguing about whether or not protesters would be allowed back into the park. As of posting time a decision has not been made and protesters are being held behind police barricades that surround the park.
Meanwhile, a colleague of many of the speakers at the press conference remained in jail after being arrested during this morning's police action. Manhattan City Councilman Ydanis Rodriguez was arrested. Two lawyers from the firm Stoll, Glickman & Bellina who represent Rodriguez said the police have not allowed to see their client.
"I have never gone to a precinct to see a client and been denied the opportunity to see that client," said attorney Leo Glickman.