UPDATES: Bloomberg, Booker and tri-region govs give Irene updates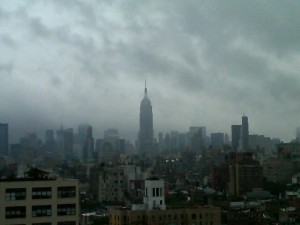 Sunday, August 28
[UPDATE 5: The governor's office has announced the city's subways--with a few exceptions--will be up and running by 6 AM tomorrow morning.
But here are the exceptions:
o 3 trains will operate between 137th Street/City College and New Lots Avenue; Substitute bus service will be provided between Harlem 148th Street and 135th Street connecting with the 2 train.
o C trains suspended; A trains will make all local stops from 207th St. to Lefferts Blvd.​
§ No service in the Rockaways. (Rockaway Blvd. to Far Rockaway and Rockaway Park)
o 6 trains runs local in the Bronx
o 7 trains run local
o S Franklin Avenue Shuttle (FAS) Suspended
o N trains terminate at Kings Highway. Shuttle bus service between Kings Highway and Stillwell Terminal.
· The Staten Island Railway will resume normal service at midnight tonight.
[UPDATE 4: Governor Cuomo's office announced FEMA added an additional 10 counties to receive disaster assitance. On top of the five boroughs of New York City and the Long Island counties of Suffolk and Nassau, Columbia, Delaware, Greene, Orange, Putnam, Rockland, Schoharie, Sullivan, Ulster and Westchester counties have been added.]
[UPDATE 3: Mayor Bloomberg gave a press conference on the city's status post-Irene. The notes are below.]
[UPDATE 2: Governor Christie's press conference earlier is posted below.]
[UPDATE: Governor Cuomo has closed the Tappan Zee Bridge due to flooding on the NY Thruway.]
New York City Mayor Michael Bloomberg gave an upbeat press conference earlier today. The big news was that the evacuation order will be lifted by 3 PM today, and that the city's transit system remains crippled by the storm. Officials wouldn't give a timetable for when service would be restored.
"The good news is the worst is over, and we will soon move to restore and return mode," the mayor said. "We do not yet know the full extent of the damaged caused by the Category 1 storm, but so far, as I said earlier, there is no confirmation of deaths or injuries from the storm. We are really very grateful for that."
The mayor said flooding and power outages were still being reported, as 62,000 New York City residents wait for electricity service to be restored. Bloomberg said ConEd expected all service to be restored no later than Tuesday.
Still, the head of the MTA, Jay Walder, said there was no timetable for subway service restoration. The mayor said New Yorker's should prepare for a difficult commute in the morning, as trains might not be running by then.
The mayor said that the city had heard no reports of deaths or mayor injuries because of the hurricane. Likewise, arrests last night were well below the average for this time of year, and NYCHA houses were expected to be cleared for residents to return by 6 PM.
"All in all, we are in pretty good shape because of the exhaustive steps I think we took to prepare for whatever came our way," Bloomberg said.
---
Governor Christie spoke about New Jersey's response to Hurricane Irene a little bit ago. The video is below.
---
Good morning! Hopefully you're relatively dry and, if you lost power, it'll be coming back on shortly. There are reports of flooding damage, downed trees and power outages throughout the city and region. Check out this crowdsourced map to see where people are reporting damages, and to include any info you might have.
A couple quick notes after the storm:
The north tube of the Holland Tunnel was closed earlier due to flooding.
The governor's office is reporting some 750,000 people across the state are without power as of 10:30 AM this morning.
MTA service remains suspended.
New York Governor Cuomo was in the Catskills earlier to checkout storm damage. His Flickr page has photos and video of some of the flooding.
New Jersey Governor Christie was on "Good Morning America" earlier to talk about Hurricane Irene's impact on the state.
Saturday, August 27
[UPDATE 3: Governor Cuomo brought the total activated National Guard count to 1,900. The governor's office also reported an earthquake outside of Albany.]
[UPDATE 2: Video from New Jersey Governor Chris Christie's 2 PM press conference is posted below.]
[UPDATE: Hoboken and New Jersey City evacuation information]
NEW YORK
From By Karen DeWitt, WXXI Capitol Bureau Chief
Governor Andrew Cuomo witnessed the deployment of the first of around 1,000 New York National Guard troops headed for key sites in the New York City area. He also continued to warn those who live in upstate to be prepared, as well.
Cuomo says the National Guard troops will be stationed at Stewart airport in the Hudson Valley and the Farmingdale airport on Long Island. The sites will be used as staging areas to distribute water, ready to eat meals, and emergency generators, if they are needed in the wake of hurricane Irene. The governor has also signed a memo with the federal Secretary of Defense for joint command of the troops, and says FEMA will also be bringing in supplies.
"Government has an important role in a situation like this," said Cuomo.
The governor says citizens have a role to play as well. He says those asked or ordered to evacuate should leave, if they haven't yet. He says others in the path of the storm should be prepared with extra water, non perishable food and batteries, and should stay home and keep off the roads.
---
From the WNYC Newsroom
New York City's biggest utility says it could cut power to the city's most vulnerable areas if Hurricane Irene brings serious flooding.
Consolidated Edison spokesman Chris Olert says the utility doesn't expect to cut power before the storm hits, but flooding Sunday could bring a shutdown to areas including the southern tip of Manhattan and parts of the West Village.
He says nothing will be done proactively.
Flooding could cause severe damage to underground cables, transformers and other equipment if power were left on. He says a shutdown "allows us to do repairs more quickly and safely."
---
By Colby Hamilton
Mayor Bloomberg was in Coney Island earlier today, urging residents in evacuation zones to heed the city's order and get out.
"We expect a strong Category 1 storm to hit us tonight with winds between 55 and 75 miles an hour," Bloomberg said. "Now people get confused and say, 'Oh, that's down from 115.' The great danger to us here is from the storm surge, and there's no evidence that the forecast for that is changing. It is going to be a very serious thing as far as we can tell now."
The mayor said the 91 emergency evacuation centers around the city could handle upwards of 70,000 people (our evacuation zone map shows the locations of the centers). Additionally, teams of firefighters in each borough are looking for home-bound elderly and nursing home patients in the evacuation zones. Bloomberg said 7,000 patients had already been evacuated.
Police officers will be broadcasting evacuation messages over loudspeaker in the communities ordered to leave. The city is also shutting down elevators in NYCHA housing that could be affected by flooding. The Staten Island ferry is scheduled to close at 10 PM this evening, though the mayor did say that time could be pushed up if wind conditions worsen.
"New York City doesn't have a lot of real-life experience with hurricanes," the mayor said. "We've watched then from afar as they've ravaged other parts of the nation, and thank God we've never really experienced that kind of destruction here. But that does not mean that it can't happen. It can, and we must be prepared."
NEW JERSEY

---
New Jersey City is issuing evacuation orders for the following places as of 4 PM today, Saturday, August 27, according to Mayor Jerramiah T. Healy's office.
Evacuations have been order for residents in basement or first-floor apartments in the following areas:
East of Green Street from Essex St North to Christopher Columbus Drive
East of Washington Boulevard from Christopher Columbus Drive North to 18th Street
Port Liberte
Society Hill
Country Village
Jersey City has also opened evacuation centers in:
MS#4, 107 Bright Street
MS#7, 222 Laidlaw Avenue
PS#17, 600 Bergen
PS#28, 339 Stegman Parkway
Dickinson High School, 2 Palisade
the Jersey City Armory, 678 Montgomery Stree
---
By Colby Hamilton

Hoboken Mayor Dawn Zimmer has ordered an evacuation of all basement and first-floor apartments. The order is effective immediately. A shelter has been established at Wallace School at 1100 Willow Street in Hoboken. Residents who require assistance should call 201-239-6643. Additionally:
Mayor Zimmer says it is critical that residents with their vehicles parked on City streets drive them out of Hoboken as soon as possible because she is expecting they will all be underwater. Officials are expecting a five to ten foot flood throughout most of Hoboken when the Hudson jumps its banks and the City is hit with stormwater run-off from Jersey City Heights.
Friday, August 26

President Obama granted Cuomo's federal emergency request. "I thank the President for his quick response. We are working hard at all levels of government to prepare for this storm and we appreciate the federal government's support," Cuomo said in a statement. The emergency area includes all of New York City, as well as Suffolk and Nassau Counties on Long Island.
Governor Cuomo just announced the following tolls and fares in the New York City area are being suspended starting at 8 PM today:
Tolls will be suspended on the Verrazano-Narrows Bridge.
Fares will be suspended on buses throughout the city.
Fares will be suspended for subway and rail passengers at stations in the mandatory evacuation area.
The governors of New York, New Jersey and Connecticut are getting their states ready for the weekend furry that will be Hurricane Irene. Here's a quick rundown of what each state has said so far:
New York
New York Mayor Michael Bloomberg is giving a statement now on the current city plans for hurricane preparedness.
New York City Mayor Michael Bloomberg gave a press conference earlier. Here are the highlights. Check out WNYC's interactive map to see which zones you or people you know live in:
The city is opening 91 emergency facilities starting at 4:00 PM today.
A mandatory evacuation order has been issued for residents living in Zone A of the city's hurricane evacuation plan. This includes Battery Park, Coney Island, and large portions of Staten Island, as well as both Zones A and B on the Rockaway Peninsula. The evacuation deadline is 5 PM tomorrow.
The MTA will suspend service at noon tomorrow. Service might not be restored by Monday morning rush hour.
Homeless shelters in Zone A are shutting down. People in those facilities are being moved to inland facilities.
The city has issued a stop-work order at construction sites starting at 2 PM tomorrow, and lasting until 7 AM Monday, August 29.
Beginning at 9 PM tomorrow "zone fares" for taxis will reduce the costs of traveling, and ride sharing is being encouraged. Livery car will be allowed to make street pickups.
The city's bridges may be closed if winds reach 50 MPH or more.
All city permits have been revoked after 2PM tomorrow for activities like street fairs and block parties. The city's beaches will be closed Saturday and Sunday.
Governor Andrew Cuomo has declared a state of emergency for New York yesterday, allowing the state greater access to resources and control over government operations. He held a press conference today at noon to discuss coordinating efforts between the state and local governments. Evacuations have begun on Long Island and parts of New York city (check out WNYC's map of evacuation zones). "We are communicating with our federal and local partners to track the storm and to plan a coordinated response, and we will deploy resources as needed to the areas expected to be hit the hardest," Cuomo said in a statement yesterday. Here is the latest info about the state's actions:
The New York Army and Air National Guard will deploy up to 900 soldiers and airmen and over 100 vehicles to support civil authorities; those troops have already begun to report.
The Metropolitan Transit Authority will institute a system-wide shut-down when trains and buses begin their final runs starting at approximately noon on Saturday; the shut-down will include subways, buses, Long Island Rail Road, Metro-North Railroad, and Access-A-Ride
If sustained wind speeds exceed 60 mph, all of the following bridges will be closed to all traffic: George Washington Bridge, Tappan Zee bridge, all bridges operated by the Triborough Bridge and Tunnel Authority, and the following Hudson River bridges: Bear Mountain Bridge, Newburgh-Beacon, Mid-Hudson (Poughkeepsie), Kingston-Rhinecliff, and Rip Van Winkle (Catskill)
The New York State Thruway and possibly other major highways will also be closed if sustained wind speeds exceed 60 mph; further closings will be announced as the storm progresses
LIPA will have 2,500 line workers and tree trim personnel available throughout the weekend for emergency repair work, its largest emergency roster ever
175 extra ambulances and personnel will be deployed in regions expected to be hit the hardest by the storm
The mayor is holding a 1:30 PM press conference to update city resident's. You can view it live at NYC.gov.
From the AP
Forecasters predict Irene to make landfall Sunday as a Category 1 storm between New Jersey and Cape Cod.
The National Weather Service has issued a hurricane watch and a flood watch for Long Island, New York City and Rockland, Westchester and Putnam counties.
New York City Mayor Michael Bloomberg ordered the evacuation of nursing homes and hospitals located in low-lying coastal areas, such as Battery Park City in lower Manhattan, Coney Island in Brooklyn and Far Rockaway in Queens, beginning Friday.
The governor declared a state of emergency and the state's Office of Emergency Management has increased staffing in its underground bunker.
Last hurricane to hit was Hurricane Gloria in 1985 on Long Island as a Category 2 storm with winds gusts of up to 100 mph. Since then, numerous remnants of hurricanes that have struck the state.
The governor says New York City's public transit will halt around noon Saturday because of the hurricane.
New Jersey
Governor Chris Christie has also declared a state of emergency. He's suspended tolls and ordered traffic diversions as the New Jersey shore is being asked to evacuate. From Christie's office yesterday:
The Governor is calling on people to leave voluntarily and in order to support these coast evacuations is authorizing several measures that will make evacuation easier. The Governor is temporarily suspending tolls on all parts of the Garden State Parkway south of the Raritan River and the Atlantic City Expressway beginning at 8:00 a.m. Friday morning. Furthermore, Routes 47 and 347 in Cape May County will be closed to eastbound traffic and will use all lanes to move traffic westward beginning Friday evening at 6:00 pm. As part of this process, all ramps will be tightly controlled and additional personnel will be used to ensure safety.
Newark Mayor Cory Booker told city residents they should be prepared to be without power for 'up to 72 hours' after storm.
This is not just a routine declaration. This is a serious state of affairs.
You can read the rest of Booker's statement here or watch:

From the AP
Forecasters predict Irene to make landfall Sunday between New Jersey and Cape Cod.
Hurricane warning in effect for the coast up to Sandy Hook.
Mandatory evacuations ordered for Cape May County, coastal Atlantic County and Long Beach Island.
Governor declared emergency for the state.
Last hurricane to directly hit the state was remnants of Hurricane Floyd in 1999, which caused major flooding inland.
Atlantic City casinos began canceling bus trips as gamblers scrapped reservations.
Connecticut
Governor Daniel Malloy has declared a state of emergency as well. Today he closed the state's parks and campgrounds.
"Hurricane Irene is forecast to hit Connecticut on Sunday afternoon and will be a powerful, dangerous storm," Governor Malloy said in a statement. "Although I recognize the inconvenience of having to pack up and leave earlier than planned or having to cancel a day at the parks with family, it is imperative that all of our state residents and visitors be in a secure, safe location until this storm passes. I urge everyone to monitor weather conditions and be prepared for all contingencies."
Malloy will be updating the media at 6 PM tonight on the state's emergency plans.
From the AP
Forecasters predict Irene to make landfall on Sunday somewhere between New Jersey and Cape Cod.
Hurricane warnings have not been issued.
Mandatory evacuations have not been ordered.
Last hurricane to hit was Bob in 1991.