LATFOR meets in Nassau County with many issues still outstanding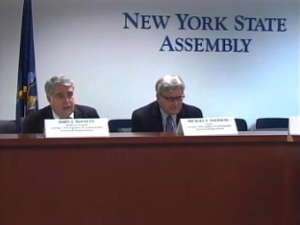 This morning the committee in charge of drawing political lines is meeting for the second-to-last time out in Nassau County. LATFOR's Old Westbury meeting is giving the public another chance to influence the process. But there are major outstanding issues that will certainly be brought up, if not fully addressed:
Prisoner reallocation
As we've reported, the Senate Republicans are being accused of dragging their feet in complying with a law that would have tens of thousands of mostly upstate prisoners counted back in mostly downstate districts. Assembly Democrats say they've already done the math—all they need is the Senate to approve. And the committee's Senate Republican co-chair Michael Nozzolio has said his side is reviewing. There's a chance a major announcement on the issue could come today.
Cuomo's veto threat
Yesterday the Governor made a number of statements regarding his veto threat. By the end it seemed (mostly) apparent that he remains committed to nixing whatever lines the legislators draw. But the Democratic Assembly co-chair John McEneny has told the governor he should see what the committee comes up with first. The problem, of course, is that there's a zero-sum game being played with Senate Republicans—if they draw "nonpartisan" lines, most observers see a likely Democratic majority in 2013. There are certainly conversations happening behind the scene. To what degree the Governor is pressuring the Senate Republicans, with whom he has a good working relationship, is unknown. The actions and words of the committee members may give a clue.
Communities of interest
Maybe more than anywhere else in the state, Nassau County is a hotbed of discontent for district lines. The county's Democratic Party won a huge court victory recently over Republican attempts at drawing them out of the majority. And a sitting lawsuit in Federal court over Voting Rights Act violations could, eventually, mean totally new lines. Civil rights and good government groups will make their final arguments before the committee draws linesin support of districts that take racial and ethnic communities more into account.
In all things redistricting, the key issue is time. With primary dates likely coming sooner, getting lines drawn and approved in time is on the minds of everyone involved. If the Governor remains committed to vetoing lines, the whole process will end up in court with even more uncertainty for, in the Governor's words, "chaos" in the final product. The degree to which avoiding mayhem creeps into the committee members' comments will be something to watch for.