Carl Paladino Gets Cast as Mr. Establishment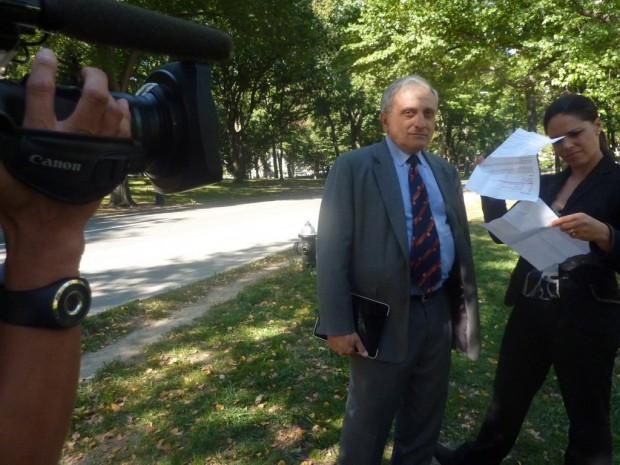 Or something like that.
[Campaign manager Michael] Caputo took a swig of mouthwash from a mini bottle, painfully rinsed then spit it out on a patch of grass.

"I have a big hole in my mouth," he explained. "I crushed a tooth when we were out on the campaign trail and they pulled over and dropped me off an at oral surgeon. They took it out in 22 pieces and then I got on a plane to catch up with Carl."

The campaign, he says, is keeping him too busy to have it fixed properly.

"Because it was such a difficult surgery, they gave me really powerful pills which knock me out. And I can't be knocked out," he said. "So, I just got to work through it. I walk around for a week now, I had blood in my mouth, which just sucks. Carl thinks it's funny."

Then, Mr. Caputo imitated Mr. Paladino: "That's great…My man has got blood in his mouth!"

On Tuesday, Mr. Paladino wasn't so blood-thirsty.

He sat on a wooden green bench in Central Park, basking in his role as the gubernatorial nominee of the New York State Republican Party, something few thought was possible before last week.

"Chairman Cox called me right after the primary and congratulated me," Mr. Paladino said. He recalled Mr. Cox saying, "we're with you one hundred percent. And you got the whole party establishment behind you."

In an August interview with WNYC, Mr. Paladino had said the Republican Party had become " "a shell" of what it used to be.

Was that party apparatus worth anything?

"Sure it is," he said. "Yeah, I won." He went on to say "The political establishment is learning how to move into the 21st century. The Tea Party movement is teaching them," he said. "There might be a changing of the guard in some places, okay, but a majority of them have accepted that."