Cuomo to receive (another) award for leadership on same-sex marriage
Thursday, October 27, 2011 - 06:05 PM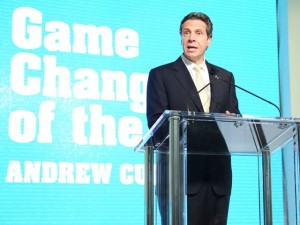 The last time the Governor received an awardfor helping same-sex marriage legislation become law, protesters from Occupy Wall Street showed up and turned the coverage of the event more towards the arrest of Naomi Wolf than the Governor.
And that was before Occupy Albany. And Scott Olsen.
As of yet, there's no sign that there's an organized plan to protest the Governor's acceptance of the Empire State Pride Agenda's Douglas W. Jones Leadership Award. If they fail to show, it would be a good day for the Governor. He's gotten some political cover from Speaker Sheldon Silver—the only leader left in Albany who supports extending the millionaires' tax.
The Governor's bifurcated governing strategy—social liberalism with economic centrism—has been looked at lately, and tonight's award ceremony will continue to burnish the Governor's standing as a leader in civil rights. I mean, Sir Elton John's even giving the Governor props.
This, despite the growing focus of Occupiers on the Governor's economic policies, specifically said millionaires' tax. Then again, his stance doesn't seem to be hurting his poll numbers. So if you're position doesn't leave you politically broken…
More in: