Wendy Long seeks to be fresh new face in battle with Gillibrand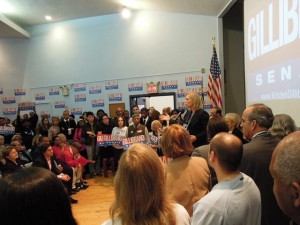 The article was updated to correctly state where Wendy Long attended law school. As was pointed out by Michael Gaynor, Dartmouth has no law school.
Inside a union hall near Times Square on Monday, New York's junior senator, Kirsten Gillibrand, stepped onto a wobbly wooden platform to accept her party's nomination to keep her job. Surrounded by "Gillibrand/Senate" posters and gleeful supporters, the Senator spoke of the how much she'd done since being appointed by then-Governor David Paterson in early 2009, and of the values that underlie her reasons for wanting to get back to Washington DC.
"It was only two years ago that we were all together in Rye," Gillibrand said. "We know how much work we have to do in Washington. We know--all of us--that Washington is broken. But together we are bound by a sense of core, common values that bring us together; convictions of what we care about--that shared vision of equality, justice, and fairness that we have to make progress on."
Gillibrand spoke about her fight for the 9/11 health care bill and her desire to see the DREAM Act passed. She spoke about bringing manufacturing back to America and fighting for women's rights in the face of a new onslaught.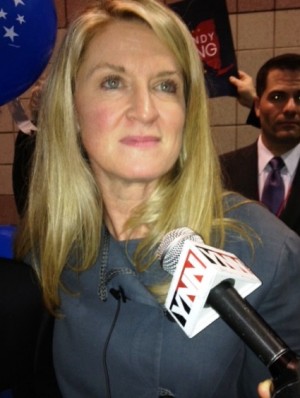 Meanwhile, as Gillibrand spoke about women's issues, another woman a few blocks further north was waiting for the results of a key vote in her quest to be the Republican to challenge the Democratic incumbent. Wendy Long, a Manhattan-based attorney, received the most votes at her party's convention on March 16, but her 47.4 percent wasn't enough to get her party's official backing.
Now, as she begins the primary sprint against Congressman Bob Turner and Nassau County Comptroller George Maragos, Long was on the verge of receiving the Conservative Party's backing, making her the clear front runner to challenge Kirsten Gillibrand for US Senate in November.
"If we can be sure of anything, it's that the immense challenges faced by our country and our nation cannot be solved by the same people in the same offices, casting the same votes for the same failed policies," Long told Republicans in a speech at the convention. She cast herself as the fresh face in the race, looking to take Senator Gillibrand on her desire to see more women in politics.
Long may have joined the race late last month, but she has long been heavily involved in conservative activism and politics.
A native of New Hampshire, long attended undergrad at the local Ivy, Dartmouth, before studying law there and at Harvard and Northwestern. She went on to clerk for conservative Supreme Court Justice Clarence Thomas before joining the conservative Judicial Confirmation Network (the URL for which now goes to the Judicial Crisis Network) in 2005. An active supporter of the Supreme Court nominations of both John Roberts and Sam Alito, Long became the group's lead voice of opposition to President Obama's nomination of Justice Sonia Sotomayor.
"Judge Sotomayor is a liberal judicial activist of the first order who thinks her own personal political agenda is more important that the law as written," Long wrote in a piece appearing on the National Review's website in May 2009. She didn't limit her criticism to print:
In her letter announcing her run, Long says her experience working as a lawyer for "clients whose businesses were struggling against government overreach and overregulation – the things that choke opportunity and entrepreneurship, kill jobs, and undermine our constitutional freedoms" pushed her to get into the race.
We will fight with everything we've got against Barack Obama, Kirsten Gillibrand, and the Democratic Establishment in Washington, whom I believe are the real "one percent" – the elite liberals who think they are smarter than the rest of us, who want to take our hard-earned money and tell us how to spend it instead of letting us take care of our own families and communities, who think that government and not private enterprise creates jobs, and who if not stopped will destroy our Constitution and limited self-government.
Speaking with reporters on the floor of the Republican convention, Long pointed to the similarities that she and Senator Gillibrand share.
"Kirsten Gillibrand and I are very similar in our biographies. We're both mothers, we're both lawyers. But we couldn't be more different in our beliefs, in our principles, in our politics," Long said. The appeal of Wendy Long for New York Republicans and conservatives could be the total package of similarities and differences in a year when women may be the one of the biggest issues.
The congressional primary will be held on June 26.