Turner campaigns for 9th District in Sullivan County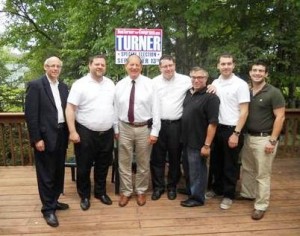 Bob Turner took a road trip last weekend to court members of the Orthodox Jewish community vacationing and visiting family in upstate New York, the Turner campaign said.
On Sunday, Turner fortuitously escaped the soaking here in the city as he traveled to Woodrige in Sullivan County to speak to potential supporters vacationing in the Catskills Mountains. Turner was accompanied by a campaign consultant, Jonathan Schenker, who is helping Turner navigate the Orthodox community.
"Much of the district, they go upstate in the summer, in the Orthodox community," Schenker said. "The men are up there for the weekend and the wives and the children up there for the week."
According to Schenker, Turner attended a house party with about ten supporters before hitting up the commercial strip in downtown Woodridge, where he was said to be well received at the local pizza shop. "They actually cheered," Schenker said. "It was a great feeling for me actually."
The three-hour tour (after a three hour drive up, followed by a three-plus hour drive back) in Sullivan ended with a visit to a local Orthodox camp connected to a Jewish center near the 9th Congressional District. Schenker said many of the in-district families send their children up during the summer. Turner visited with campers, their parents, and vacation homeowners up for the weekend.
"We gave up some things we could have done downstate because he felt it was important to be upstate," Schenker said. "It's a very big deal. He went to Sullivan County as a sign of commitment to the community."