Tricky ethics picks bedevil new state ethics commission's first day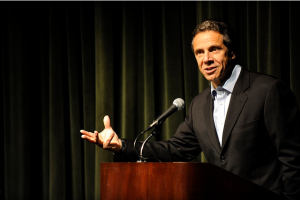 Courtesy of the Governor's office
Since its appointment announcement yesterday, the state's Joint Commission on Public Ethics has been criticized for some of the people picked by elected officials to serve on the commission that oversees elected officials in Albany. Here are some of the appointments that are raising the biggest questions:
1. Ravi Batra – appointed by Senate Minority Leader John Sampson
The biggest red flag being waved about Batra was his connection to incarcerated former Brooklyn Democratic Party boss Clarence Norman. Norman worked at Barta's law firm, before being let go shortly after arrests were made that eventually led to Norman's conviction on corruption charges. But it's Batra's position as a Democratic insider with connections to everyone, including as a fundraiser for the man that appointed him and Governor Andrew Cuomo.
Former Manhattan District Attorney Robert Morgenthau praised Barta in a letter of recommendation for the position, saying, "His independent judgment, informed by real life, will serve the best interests of New Yorkers who deserve a government that above all serves the public good."
But Chris Owens, a Brooklyn Democratic Party official, said the move raised serious questions about both the appointee and the elected official who appointed him: "Why would John Sampson, after all the questions about the Aqueduct scandal which everyone's trying to put behind them, nominate somebody who has any kind of taint attached to his name?"
2. David Renzi – appointed by Assembly Minority Leader Brian Kolb
Back in 2008, as a candidate running for State Senate against then-Senator Darrel Aubertine, Renzi was accused of inappropriately accruing retirement credit with the State as an employee of Pamelia, New York, even though he wasn't technically an employee. At the time of the report in the Watertown Daily Times, both of Renzi's partners in his law firm were being investigated by the State Comptroller's office for similar violations.
Renzi defended himself against the accusations, saying, "I have always held myself to highest ethical standards." The Pamelia town supervisor, Lawrence Longway, said Renzi is still employed by the town as an attorney and that the issue was overblown during an election year.
"It wasn't like he was getting so much money from us and getting benefits on top," Longway said. "Everyone in this area laughed, because if there's anyone in this area that doesn't give money away, it's me."
But that didn't stop Aubertine from airing attack ads back in 2008 that accused Renzi of unethical behavior.
Additionally, Renzi's wife is reported to be employed by State Senator Patty Ritchie, which the Watertown Daily Times has Dick Dadey of Citizens Union quoted raising concerns over:
For a JCOPE appointee to have his spouse employed by a state senator, while legal, crosses the line ethically…It doesn't look good to have such a tight association between an appointee and a state senator, over whom one has oversight.
3. Mary Lou Rath and Mitra Hormozi – appointed by Senate Majority Leader Dean Skelos and Governor Andrew Cuomo, respectively
While neither Rath nor Hormozi were specifically targeted in the past over ethics (in fact, Hormozi was lauded by some for her work in the AG's office), both violate a rule that says elected officials and government employees need to be out of Government for at least three years to be allowed to serve on JCOPE.
Rath was a State Senator from Erie County until she retired in 2008. Technically, she was in office until January 2009, when the current Senator, Michael Ranzenhofer, succeeded her, meaning she has at the time of her appointment not been out of government the full three years.
Hormozi served as the Attorney General's special deputy chief of staff under Andrew Cuomo, before heading up the now-defunct New York State Commission on Public Integrity. This would make her ineligible under the rules.
---
Now, it's not that everyone on the panel is facing fierce scrutiny. In fact two people in particular were highlighted as perfect picks for such a commission:
1. Janet DiFiore, Chair – appointed by Governor Andrew Cuomo
DiFiore is the Westchester County District Attorney, and an appointment Susan Lerner of Common Cause hailed as "a pivotal step toward real reform." Lerner, remarkably, singled out DiFiore for that distinction.
A former Republican who switched parties to run for reelection as a Democrat in 2009, DiFiore has continued to enjoy support from both sides of the aisle. Mike Edelman, a Westchester Republican attorney who has known DiFiore for a number of years, said the pick made perfect sense.
"I think it's a recognition that Janet is a superb law enforcement officer, and the ethics she uses to conduct her prosecutions is beyond reproach," Edelman said. "As chairperson of [JCOPE] she will make sure that committee investigates whatever comes before it in an above-board, transparent way."
2. Ellen Yaroshefsky – appointed by Assembly Speaker Sheldon Silver
Out of all the appointees, Yaroshefsky stands out for her previous work in ethics. A law professor at the Benjamin N. Cardozo School of Law, Yaroshefsky is also the co-executive director of the Jacob Burns Ethics Center in the Practice of Law.
She's also a member of numerous oversight and ethics boards, including the American Bar Association's Ethics, Gideon and Professionalism Committee, the New York State Bar Association's Committee on Standards of Attorney Conduct, and the National Association of Criminal Defense Lawyers Ethics Advisory Committee.