Focus on flood recovery raises new hydrofracking concerns for for upstate Assemblyman Cahill
This story has been updated.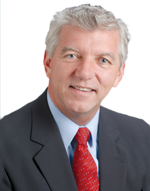 Courtesy of the Assemblyman's website.
By Karen DeWitt, WXXI Capitol Bureau Chief
The news has been dominated this week by two upstate stories that strangely have dovetailed, at least in one regard.
The additional flooding from the remnants of Hurricane Lee has only made the decision to limit the time for public comment on a hydrofracking report more problematic for critics.
Assembly Energy Committee Chair Kevin Cahill says he's disappointed with the Department of Environmental Conservation's decision to make the public comment period on a draft final report on hydrofracking 90 days long, an increase from 60 days but still not long enough largely because of the flooding.
Cahill says many of the key regions in the Marcellus Shale were flooded first by tropical storm Irene and now the remnants of Hurricane Lee, with several of them declared federal disaster areas. He says people there will be too busy cleaning up ruined homes and businesses to focus on attending hearings or submitting opinions on the future of natural gas drilling in New York.
"These communities that may want to participate in the comment period are preoccupied…with trying to help protect the lives and property of their citizens," he said.
The flooding also has offered more information on what areas may not be appropriate for hydrofracking. The assemblyman, whose own house in Kingston briefly became an island during Irene, says engineers at the agency should reconsider which areas they've declared 100-year flood plains and therefore off limits to gas drilling.
Cahill says that data, after the storms of the past two weeks, might now be out of date.
"We know from the past several weeks that the definition of flood plains as we know it from our maps is antiquated," said Cahill. "We need to re- map our flood plains."
DEC Spokeswoman Emily DeSantis responded in a non- committal manner to Cahill's request, saying, "The recent extreme weather and flooding bring a host of issues to the forefront. Commissioner Martens is participating in the Storm and Flood Recovery Task Force that will look at how to address these issues including flood plains."
She says the DEC will not be delaying the environmental review process, though, over the issue of remapping flood plains.
Cahill says he's also concerned that beleaguered farmers, who saw their crops washed out this year, might find themselves in a financially vulnerable position which leads them to sell or lease land to gas companies when they otherwise might not.
"Maybe they are just going to be looking for an easy way to get back on their feet," said Cahill. "This could provide that for the short term, with longer term implications that have not been fully vetted."
Cahill says Democrats, who hold the majority in the state Assembly, have sponsored bills to renew a now expired moratorium on hydrofracking in New York. But he says the State Senate, led by Republicans, has shown no interest in the measures.