Liu's fundraising slowdown is his rivals' gain in 2013 Mayoral race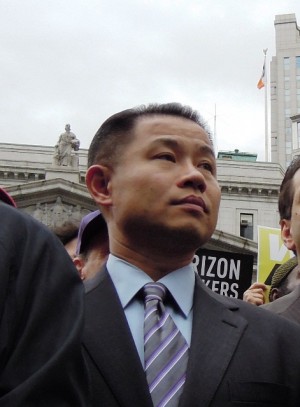 Colby Hamilton / WNYC
The city and state's semi-annual campaign finance filings were due this week. In the city, the Mayoral candidates fiscal pictures were the primary focus. As Mirela Iverac reported for WNYC yesterday, City Council speaker Christine Quinn continued to dominate her potential rivals for the Democratic nod. The Speaker is now quickly approaching a point of inertia after becoming the first candidate to raise more than what the campaign finance spending limit during a primary would allow. Quinn's haul over the last six months was more than $482,000.
But the real story here starts with John Liu, who observers were watching to see how much an impact the fundraising scandal has hurt his efforts. The answer, it seems, is significantly.
First there's the raw number: in the previous fundraising filing, Liu had raised nearly $1 million. In this most current filing, the Comptroller's campaign raised about half that.
His spokespeople are saying he wasn't able to really re-focus on fundraising until December, which seems to be belied by the regular fundraising schedule the Comptroller kept up after the fundraising scandal intensified.
But the second piece of the equation is the corresponding news from the de Blasio and Stringer campaigns. Both Public Advocate Bill de Blasio and Manhattan Borough President Scott Stringer raised more than Liu. De Blasio raised the most out of the Democratic frontrunners this cycle, bringing in close to $1 million ($975,612). Stringer's campaign raised more than $543,000, which was the second-highest fundraising figures out of the initial group.
Liu now trails both de Blasio and Stringer in total funds raised.
Now, there's one other candidate I haven't mentioned: former Comptroller and 2009 mayoral candidate Bill Thompson. His campaign reported significant funds raised, with just over $638,000 coming in over the last six months. Thompson's campaign—raising more than both Liu and Stringer—is the third and final piece showing the Liu slowdown is giving other candidates—especially the only other non-white candidate in the race—room to breathe.
There was always going to be a point where Quinn's fundraising slowed down and everyone else began to catch up. Eventually, all the candidates will max out and be on a relatively even footing as we move into the proper primary season. But Liu's slowdown only adds to the sense that his Mayoral aspirations are growing dim.
One quick postscript: former Congressman Anthony Weiner has about $3.8 million in campaign funds remaining from his aborted run for Mayor. Only a few thousand dollars were returned in the last cycle, most of which went to former MTA chief Peter Kalikow and his wife.