Majority Leader Dean Skelos endorses Mitt Romney for President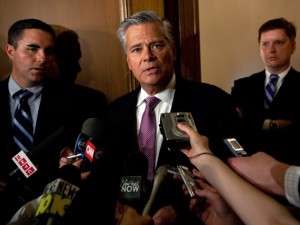 Republican Presidential hopeful Mitt Romney is solidifying his base of support in a major way today. Dean Skelos, the Republican Majority Leader of the State Senate and the highest-ranking member of his party in the state, announced he's endorsed Romney's campaign today, citing the former Massachusetts Governor's 800-plus vetoes and the "conservative principles" Romney brought to state government.
"Of all of the candidates running for President, [Mitt Romney] is the one most uniquely qualified for this moment," the State Senator said in a statement. "Mitt Romney's policies will translate into more private sector jobs and more opportunities in New York and across the country, and I am proud to endorse him for President."
Skelos is the latest New York Republican politician to throw his support behind the Romney campaign. Yesterday Queens Councilman Eric Ulrich was appointed to run Romney's campaignin New York City.