CU's Dadey to Cuomo: Use the veto to get better maps in redistricting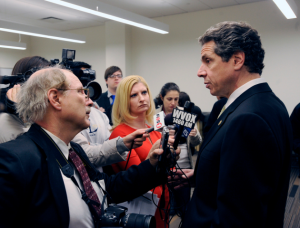 Courtesy of the Governor's office.
In a letter sent to Governor Andrew Cuomo, Citizen Union's Dick Dadey urges the Governor to use his veto threat to get better lines from the legislature and ensure fundamental reform for future redistricting.
"Citizens Union believes your veto threat provides you with valuable leverage because it poses the threat of uncertainty:  the last thing the legislature can tolerate, particularly with regard to their own districts," Dadey writes. "We respectfully request that you use your veto threat ‐ unlike any other governor before you ‐ to achieve two important goals:  secure lasting and permanent redistricting reform through statutory change and a constitutional amendment; and pursue meaningful changes to thisyear's lines by holding direct negotiations with the legislature.  We urge you to seek districts that reflect as best as possible the criteria outlined in your program bill on redistricting.   Should this approach fail to produce needed changes to the 2012 maps and bring about lasting reform, we call on you to exercise your veto."
This call from Dadey to use the veto pen carefully essentially backs up what Cuomo told the Democrat and Chronicle late last week, when he laid out the conditions for which he would be willing to accept the lines passed by the majority parties in the state Senate and Assembly: "less hyper political" lines, and a commitment to passing both a constitutional amendment to establish an independent redistricting process as well as a law that would effectively do the same should the legislature fail to pass the constitutional amendment.
The Governor's office has pushed back strongly on the suggestion he was backing off his oft-mentioned pledge to veto lines that are drawn in a partisan way--something considered to be inevitable because the legislature is drawing them.
As YNN's Nick Reisman reports, Cuomo on Fred Dicker's show today again sounded like he was pushing back on any suggestion he's wavering in his veto threat. "If they send me these lines, these lines will be vetoed," the Governor said. But as Reisman notes, the Governor (again) is putting in qualifying language by talking about "these" lines, in other words, the current maps roundly denounced as a gerrymandered mess.
Senate Republicans and Assembly Democrats are going to come out with a new batch of maps soon. They are looking to vote on and pass a set of maps as soon as March 1--that's one week from today.
When they do, it is Cuomo and Cuomo alone who will decide whether the maps become law or likely move towards the courts. It's his veto that is the deciding factor, no matter how much he tries to understate that reality. If his remarks last week, and today's letter from Citizen Union, are any indication, it looks like the Governor is prepping us for a compromise that will see less egregious but still legislatively drawn lines become the reality.