Former NYC mayor Giuliani endorses Turner for Congress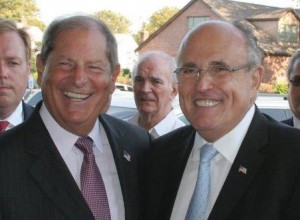 The Turner campaign announced the endorsement of former New York City mayor Rudy Giuliani this morning. This is now Turner's second former mayoral endorsement, the first coming from Democrat Ed Koch last month.
"Congress is in dire need of business leaders like Bob Turner, not another career politician," Mayor Giuliani was quoted as saying in a statement. "This country needs to start creating jobs again and Bob Turner has the national and international business know-how to help move us in that direction."
The endorsement of Giuliani--who still hasn't ruled out another potential presidential run--continues the momentum build Turner's campaign has had throughout the campaign. Turner's campaign release of an ad reviving the Ground Zero mosque controversy, while criticized in some circles, helped Turner control the tone and message of the campaign, putting his opponent, Democratic Assemblyman David Weprin, on the defensive.