NY-9 Special Election: Maybe You Can Vote Tomorrow!
By It's a Free Country blogger Stephen Reader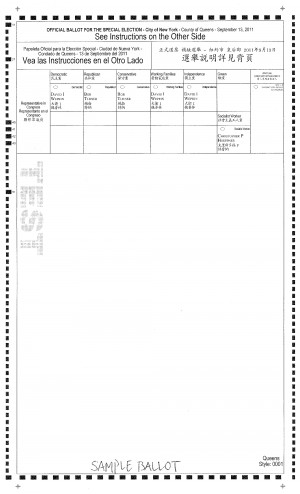 Remember Anthony Weiner? Man! Where did the summer go?
Anyway, that guy is gone and after tomorrow we'll have a new representative of New York's 9th congressional district. The candidates are Republican Bob Turner and Democrat David Weprin, and the contest is being cast as a referendum on Barack Obama, etc.
Maybe you didn't know there was an election tomorrow. Maybe you don't know if you're even in this oh-so-coveted and exotic 9th district. Your eighth grade civics teacher would be ashamed. What's a New Yorker to do?
First things first: Are you registered to vote? If not, then it's too late; go about your day tomorrow as if it were any other, spent looking at cats on the internet instead of exercising the main privilege afforded by democracy. If you've got a minute, take some time to read our guide on how to register to vote, 'cause you know, you might want to do that next year. Or not! It's a free country.
For those of you who are registered to vote, you'll need to find out where you live. Do this thing from the New York State Board of Elections. It will tell you your congressional district, state senate district, assembly district, everything. This is useful, because even if you're not in the 9th congressional district, you might be in a state senate or an assembly district that's having a special election tomorrow too. The Board of Elections homepage has this info.
Let's say you're in the ninth district. Now you'll need to find out where to go in order to vote for the guy to replace the other guy who tweeted lewd photos and lied about it. Do this thing from the New York City Board of Elections. My polling place is right around the corner from me, and yours is probably right around the corner from you. This city has it all.
Lastly, you might do well to find out just who Bob Turner and David Weprin are, what they stand for, and all that jazz. Lucky for you, we've been covering this dutifully on our Empire blog. You should have everything you need to make an informed decision.
If you've done all these things, happy voting tomorrow. We'll let you know who wins.