The Empire's 9th Congressional District Voters Guide
Compiled by WNYC's Alana Casanova-Burgess
Endorsement selections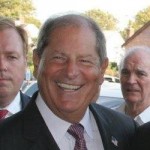 Bob Turner: NY Daily News; NY Post; the Jewish Voice; former governor George Pataki; former mayors Ed Koch; former mayor Rudy Giuliani; Assemblyman Dov Hikind
David Weprin: The New York Times; Queens Tribune; El Diario; Senators Joseph Lieberman; Senator Kirsten Gilbrand; Senator Charles Schumer; City Council Speaker Christine Quinn; New York State AFL-CIO; SEIU; 32BJ; DC 37
Federal budget policies
Turner has publicized his goal of cutting federal spending by 35 percent across the board – but that he would not cut Social Security of Medicaid in their present form. Turner was endorsed by former Mayor Ed Koch in part because he has pledged not to privatize Medicare and Social Security and turn Medicaid into a block grant, as per Paul Ryan's proposal. He also said that he would be open to increasing revenues.
Weprin has attacked Turner by saying his goals to cut federal spending are not realistic. "The Republicans in the House are looking to slash Social Security and Medicare. Frankly, people are scared," he said. "I will fight to preserve Social Security and Medicare, not to privatize Social Security and Medicare."
Zadroga Act for 9/11 first responders
Turner has said that the $4.3 billion health law for 9/11 first responders has flaws. "I think it is a little too broad," he told the New York Daily News Editorial Board last month. Volunteers should not have been included in the law, he added.
Weprin shot back, supporting the law famously championed by Rep. Weiner. "Those volunteers risked their lives," he said.
Israel
The focus early in the campaign seemed to be on competing support of Israel. The district is home to many Orthodox Jewish voters. For the record, here's what both candidates said on the Brian Lehrer Show on WNYC: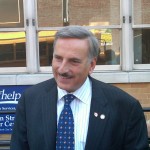 Weprin: I think we have to be careful about asking Israel to make concessions that we're not asking of the Palestinian Authority. Obviously, while there is aid to the Palestinian Authority certain support for recognition of the state of Israel is important but.. I don't think we differ too much for our strength for the state of Israel. But I think we have to really talk about the other issues where there's really a major difference.
Weprin, an Orthodox Jew, has also said that he disagrees with President Obama's stance on Israel.
Turner: I think Mr. Weprin said it himself when he said I will follow the party caucus. The caucus is not always in line with what is in the best interest of Israel or even the U.S. in this regard. So I think that's an important distinction… I think some UN votes, UN funding will be a part of this. Just the other day we had the Democratic caucus supporting Obama in paying the Palestinians who in turn are paying terrorists who are in Israeli prisons. … I think [cutting off all aid to the Palestinian authority from the U.S. is] a good starting point until we get some cooperation out of them in terms of firing rockets at Israel.
Debt Ceiling Vote
Weprin would not have voted for the compromise deal reached for the debt ceiling, but acknowledged that something had to be done to prevent default. Cuts to Medicare and Social Security would be particularly painful for New Yorkers, he said on WNYC. More recently, he told the Daily News Editorial Board that he thought the federal debt was $4 trillion. It is actually roughly $14 trillion.
Turner also called the deal imperfect, but said in a press release that he supports the deal reached in Washington. "This agreement is far from perfect, but it will protect Social Security and Medicare and prevent default on our debt, which would have damaged this weak economy even more." Overspending on both sides of the aisle, he added, is to blame.
Gay Marriage
Turner has said he supports marriage as being between a man and a woman. He has received support in his campaign from the anti-gay marriage group, The National Organization for Marriage.
Weprin "supported the same-sex marriage bill in Albany" as a state Assemblyman, he told Brian Lehrer. "It was a civil issue. We basically just authorized civil marriage. It wasn't a religious issue."
Turner lives in the 9th Congressional District, although Weprin does not.