Lovin' the Gov'na: voters continue to give Cuomo high marks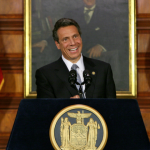 Courtsey of the Governor's office
Governor Andrew Cuomo continues his string of good poll numbers. A NY1/YNN-Marist Poll released today says 55 percent of New York voters say the Governor is doing a good or excellent job. According to the poll 70 percent of those surveyed said they had a favorable impression of Cuomo.
"Governor Cuomo is successfully navigating against a difficult economic current," Lee Miringoff, Director of The Marist College Institute for Public Opinion, said in a statement. "What makes his numbers particularly impressive is his popularity despite the anti-government, anti-incumbent sentiment in our politics today."
Case in point: Only about 20 percent of voters think either the Assembly or the State Senate is doing an excellent or good job.
Part of the Governor's popularity is likely stemming from the impression voters have that he's kept his campaign promises, with 65 percent of those surveyed saying he did. His ability to connect word and deed in the voters eyes helping his image as an Albany reformer (63 percent say he's changing the capital for the better) who is the right sort of leader for the state (75 percent).