Councilman Greenfield: We don't want a 'Super Ghetto' senate district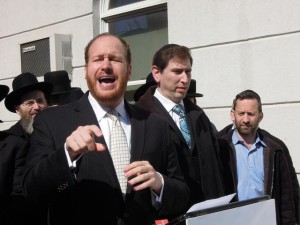 Colby Hamilton / WNYC
Speaking with a few dozen members of the southern Brooklyn Jewish community behind him, Councilman David Greenfield denounced the creation of a so-called "super Jewish" state senate district during this year's redistricting process, calling it instead a "super ghetto."
"We're not going to allow for a backroom, smoke-filled deal to dilute the strength of our community," Greenfield said during a press conference in the Borough Park neighborhood of Brooklyn.
A number of speakers from various community groups and religious organizations spoke, including Chaim Deutch of Flatbush Shomrim, Rabbi Chaim Goldberger of Satmar, Mendel Zilberberg of Community Board 12, and Rabbi Yechezkel Pikus of the Council of Jewish Organizations of Flatbush.
"We are opposed to this so-called 'super-jewish' district. This district may be super for other people, but it's not super for the Jews," Greenfield said.
The proposed district in question is part of the first draft of state senate lines drawn up by LATFOR, the task force made up of state legislatures who are responsible for drawing the new lines. If created, the 17th district would stretch from Borough Park down through the Midwood section of Brooklyn (see below).
Greenfield compared the creation of a senate district carved out for the predominately Orthodox Jewish community in the area to the creation of the Venetian ghetto 500 years ago.
"They told the Jews, 'It'll be good for you; why do you want to live with everybody? We're going to separate you. We're going to put you in a neighborhood.' And they came up with a brand new name for this neighborhood. They called it a 'ghetto'," Greenfield said. "This, folks, is nothing more and nothing less than a ghetto district."
The Councilman refused to say who, specifically, it was that wanted to create this "ghetto district" but the push for the high-density district has come from the Senate Republicans, who both drew the maps and see it as a potentially winnable seat this year. Greenfield said he testified before LATFOR, calling for more concentrated districts in the area that is now divided among as many as six senate districts.
"They gave us one--one senator. A senator that can be easily marganilized. A senator who can be dismissed. A senator people don't have to pay attention to," the Councilman said.
The battle over the future district lines has been playing out behind a special election for the nearby senate district recently vacated by disgraced former senator Carl Kruger. Another local council member, Lewis Fidler, is running against Brooklyn Republican Party vice-chairman David Storobin.
The candidate was unable to attend at least two recent debate appearances due to illness. But the illness was announced ten days ago and Fidler has been scarcely seen publicly, with just two weeks left to go in the campaign.
Requests were put in to Councilman Fidler's campaign for an update on his status. They have yet to be returned.