Comptroller Liu's prepared remarks at the executive budget hearing in Albany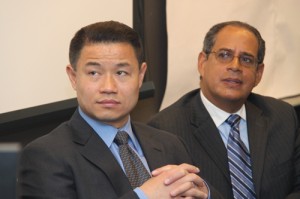 Courtesy of the comptroller's office/Paul Brumlik
Thank you Chairmen Farrell and DeFrancisco, and all the members of the Assembly Ways and Means Committee and the Senate Finance Committee for this opportunity to speak today regarding the Governor's Executive Budget proposal and the impact it will have on New York City's finances.  I am joined here today by Jonathan Rosenberg, Executive Director for Budget at the New York City Comptroller's Office.
At this time last year you were struggling to find ways to close a $10 billion budget gap.   To close such a large gap without doing irreparable harm to the citizens of our great state who rely on many state services for their health and well being was a significant undertaking. By reining in spending, the Governor and the legislature were able to correct the structural imbalance that had plagued New York State's budget in previous years. You are to be commended.
A year ago I testified before you that New York City residents were more than willing to bear their share of the financial burden in order to right the State's budgetary ship.  But I also noted that New York City residents should be treated equitably in comparison to our fellow state residents.  
AIM
Recently the Rockefeller Institute of Government at SUNY Albany issued a report which analyzed the regional distribution of revenues collected and dollars spent within the New York State budget.  The report found that in Fiscal 2009-10 New York City's share of state taxes and other revenues exceeded 45 percent of the State total.  Yet, only approximately 40 percent of the State's expenditures went to the City.  The report estimated that in that fiscal year New York City residents sent between $4 and $6 billion more to Albany than was returned as part of state expenditures.
Regardless of the fiscal climate, New York City is, and will remain the economic engine of our State and as such we will continue to do our part to help spur economic growth and job creation.  However, we can only do that if the State partners with us and finally gives New York City our fair share of resources.
For instance, in Fiscal Year 2011–2012 the State returned $715 million of taxpayer dollars directly to more than 1,500 municipalities statewide through Aid and Incentives for Municipalities (AIM). The 11.1 million New Yorkers residing in these villages, towns and cities received over $64 per capita in AIM funding. But nearly 8.3 million New York State residents in one city saw not a penny of these funds.
Although the state budget outlook is not as grim as it was last year,  New York City residents are once again being treated inequitably. I am encouraging you to right an unjustified wrong for all New York City residents by restoring the City's AIM funding.  As the driving force in our State's economy, New York City should be afforded all the financial tools available to keep this state moving.   
ECONOMY – Euro Zone
New York City's economy initially experienced a solid rebound from the financial crisis and recession.  However, during the past eight months it appears that the local economic recovery has stalled—the number of private sector jobs in the City in December was slightly below the total of April.
A difficult business environment for Wall Street has certainly played a large part in the recent softness in the City's economy.  Domestic financial firms are struggling and European banks are particularly stressed. The City's close ties to Europe remain a wild card for our economy.
It is important to realize that European banks are New York City's banks. We estimate that New York City offices of European banks have over $1.2 trillion in assets, own or lease over 8.5 million square feet of office space, and employ approximately 45,000 workers.
The continuing European debt crisis clearly represents the most significant economic and budgetary risk to the City as this time. There is an intrinsic connection between New York City and Europe, which further exacerbates the impact that a default would have on our City's economy.
An uncontrolled default by one of the Euro zone's key countries, and/or a meltdown of the currency union, would have serious adverse consequences for the City's economy. Even if European leaders manage to avoid such outcomes, a European recession and the continuing stress on financial institutions will dampen the city's economic growth and tax collections during the remainder of FY2012.
The potential adverse affects on the City's economy from the European debt crisis lends greater urgency to address our existing budgetary issues.
Through November, total tax revenues were running ahead of the Mayor's plan by about $39 million of the expected $40 billion in collections, but there is little prospect that a surge in tax revenues will help ease our budget picture in this fiscal year or next.   In short, the sluggish economy and volatile financial environment is taking its toll on the City, and by all accounts this will be a very disappointing bonus season for Wall Street, which will further impact the City's tax rolls.
Another issue facing our City is the growing unemployment rate, which has now hit 9 percent, a full half percent above the national average. However, the real story is the persistent disparities in unemployment that remain among people of color. In fact, the unemployment rate among white New Yorkers was 7.8% last quarter, compared to 10 % for Hispanics and 13.6% for African-Americans.
MWBE
The disparities in unemployment underscore the need to do all we can to help MWBEs flourish. As we take steps to grow our economy, all New Yorkers need to be placed on an equal footing.  Increased opportunity means increased competition, which translates into savings for taxpayers.
Success among women and minority-owned businesses creates jobs, enhances wealth, and means long-term prosperity for more people. These businesses also have a proven track record of hiring in neighborhoods that need the jobs. We as public servants need to do more to help expand opportunities for all New Yorkers. It makes economic sense.
It was encouraging to hear that Governor Cuomo is committed to leveling the playing field for Minority and Women Owned Businesses.
I look forward to working with the Governor and Legislature on this important issue.
PENSION REFORMS
It is no secret that pension costs are rising, and the Governor has recently proposed a new tier aimed at producing savings over the next thirty years.
While the Governor is focused on the benefit aspect of the pension system, my office is working closely with labor leaders and elected officials on reforms to the investment side of the City pension funds, especially since poor market performance has been the key factor contributing to the increase in pension costs over the last ten years.
We are currently working on a proposal to streamline, depoliticize, and professionalize our pension investment process – resulting in immediate savings.
The City has relied on the same pension investment structure for the past 70 years. The pension funds are comprised of five separate pension boards, 58 trustees and hundreds of outside money managers.  Our proposal would establish one investment board for all five funds, and bring management in-house. Our goal is to lower pension costs through increased performance, lower management fees, and providing the Funds the ability to move more swiftly to navigate a financial market much different than it was in 1941, when our current system was put in place.
We have been working closely with the Trustees of our Pension Boards on this plan and will continue to do so as we move forward.
Thank you for the opportunity to present testimony today. As always, my office is ready to assist you in any way possible.