Slow Down, Big Spender...NYS Refunds Take...Time
Spring is just around the corner.  That means warmer weather, looser clothes, and taxes!  Signs and mascots have already been spotted around the city.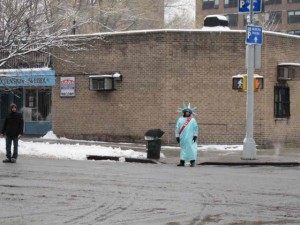 For the DIY-ers, the IRS announced Friday that 19 million tax returns have been filed from home computers so far this year, an increase of almost 6 percent compared to the number of returns from the same time last year. In New York, 3.3 million returns (in total) have been filed, with more than a $1B in refunds paid out so far. But word to wise, don't rack up big bills counting on your refund check to cover it, at least not right away.
The IRS has a website called, "Where's My Refund?" that filers can use to check on their refund information 72 hours after you've been notified that your return has been received if you file electronically, or or three to four weeks after you mail your paper return.
Here in the Empire State, the Department of Taxation and Finance also gives a nod to e-filing, but it's tougher to tell exactly how long the refund process will take. From their site:
Generally, you'll get your refund in six to eight weeks from the date we receive your income tax return. You'll get it faster if you use e-file and have your refund deposited directly into your bank account. If we identify an issue with a tax return, our review may take longer than six to eight weeks.

To check the status of your refund, see Income Tax Refund Status.
Now, there are some Type-A people who like to get things done as soon as possible. Say they filed their taxes the first week of February. Their federal return came back without a problem. But say, for example, their New York State return seemed to be taking longer. Perhaps they went back to a certain online tax site and found that several users were commenting about that very same issue. Then maybe said person went to New York State's website to check on the status of their refund. This is message that comes up:
Status
We received your return and it's in the final stage of processing. While most returns are completed within 2 weeks, it may take up to 4 weeks.
So how long does it take -- two  to four weeks or six to eight? Are those two conflicting messages confusing? Absolutely not, according to Brad Maione, the Department of Taxation's Public Information Officer. "The key word there is 'processing'," said Maione.
Maione said New York State has already processed $1B in refunds so far this year, and he said there are no processing delays expected this year, like there were last year.
But not everyone agrees things have been moving along so swimmingly, and there's plenty of fault to spread around. "So far things are petering very slowly," said Barry Horowitz, a Certified Public Accountant and partner at the firm EisnerLubin LLP.  "That's because the brokerage houses haven't released their 1099's or have just released them, so tax information is coming in very slow. Tax season is getting really compressed into a five or six week period."
Horowitz also said that he thinks that there's a refund threshold that automatically triggers an audit for some state filers.  For example, he said he had a client last year who had large medical deductions and real estate taxes. "They held up the return until we proved that they paid them which is unheard of, that a return is being audited as it's being filed."  Horowitz said his client ultimately verified all the filing information, and received the return.  But he said similar things are happening this year, too.
There are several factors that may cause the NYS Tax Department to "stop and review" an individual return, according to Maione, like the validation of withholding information.  But he said that's not the same thing as an "audit."
When asked if the state had a certain threshold that triggered a "stop and review" or "audit," of an individual return, like say the amount of the refund, Maione said, "No comment."
Filed your taxes?  Tell us how it went.