Beyond red and blue: Redistricting and the deeper fight for 'nonpartisan' lines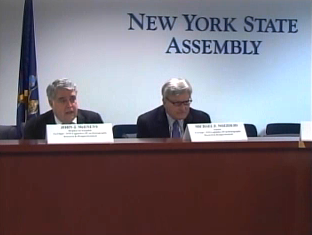 Depending on where you stand, the decennial redistricting process can be synonymous with high-stakes political gamesmanship, craven partisan manipulation, or the most boring of insider political baseball. Regardless of which version you favor, it's usually cast through the two-toned prism of Republican versus Democratic interests battling it out for control of political turf.
But that blue or red-hued view often overlooks the regional and demographic dimensions of redistricting. For starters, there are significant differences between the interests of upstate and downstate New York that go beyond just the typical partisan split.
"Downstate, the focus can sometimes shift to…a demographic point of view," said Ryan Moses, former New York State Republican Party executive director and currently partner with the Albany-based political consulting firm Capitol Public Strategies. "Which is a little different from upstate, where the population is less diverse, but just more focused on making sure it [redistricting] makes more sense geographically."
Typically the divide is along partisan lines, with upstate, often Republican-leaning areas more concerned with the way towns and counties are divided, and downstate, often Democratic-leaning districts taking racially and ethnically-based "communities of interests" into account. But the partisanship, says Moses, is only part of the political picture.
"There's politics at play there," he said. "Maybe not Republican-Democrat politics, but certainly ethnic politics, which, in New York, as you know, is a big factor."
Downstate racial and ethnic interests are hoping to become even bigger factors in the redistricting process. In a sense, this is a one-shot process: political lines are being drawn for the next ten years, and this is a singular opportunity to get what they see as their rightful slice of the political pie. For them, the partisanship is secondary, which puts them directly in the path of the traditional redistricting process.
"You've got redistricting as almost a partisan game—this sort of political gamesmanship that much of redistricting has sort of devolved into—versus redistricting as a process to help communities be adequately represented," said Keesha Gaskins with the Brennan Center for Justice. "Often times those communities will fall along political lines. But they don't necessarily have to, and whether they do or not should not be the determination as to whether or not these communities are kept together."
The assumption that communities get their needs met because they vote along party lines like other groups is at the core of what groups like the MinKwon Center in Flushing, Queens are fighting against. Steve Choi, the group's executive director, said the issue went beyond even getting members of their community elected.
"Our…coalition is not looking to simply get Asian American legislators elected; that's not our goal," Choi said. "Our goal is to make districts in which our communities are not sliced and diced."
Because of the Asian population's growth over the last decade, Choi and others are pushing to see districts drawn that keep the shared interests of the Asian communities together.
"It's really becoming quite evident that the new district lines need to take into account a lot of this demographic growth," he said. "So instead of one district—one state assembly district that elects an Asian American legislator—there's a possibility that we could have one or two state senate districts, four or five state assembly districts, that are potentially Asian American majority minority.
"There is even the possibility of a Congressional district that is 40 percent Asian American as well [in Queens]," Choi said.
The Asian American community is just one looking to gain political clout in the redistricting process. There have been calls for a majority Dominican congressional district through Manhattan and the Bronx. Likewise, traditional African American districts in Manhattan and Brooklyn will be scrutinized by the US Justice Department to make sure their updated lines are consistent with the Voting Rights Act.
The good government group Common Cause has been working in coalitions to get political lines drawn in a non-partisan fashion. Susan Lerner, the group's executive director, says the time has come for community interests to take the place of party politics when it comes to redistricting.
"There definitely is a critical mass developing in these communities that have been traditionally under-represented," she said. "It actually is a very positive statement about our society and our outlook that communities that feel that they don't have a place at the political table are clamoring for a seat."
Despite this clamoring, the process appears to remain inhospitable to outside forces. The group currently in charge of the process is entirely controlled by the Democrats in the Assembly and the Republicans in the state Senate. "The legislature doesn't have any incentive to have people outside of the process participate," Lerner said.
In the end, if the process in the end doesn't do enough to accommodate the needs of these growing communities, Lerner says the matter could end up in court. "That will be a controversy, if the communities are not adequately served by the maps," said Lerner, "then those are the communities that are often willing to litigate."