Details emerge on Cuomo's tax reform package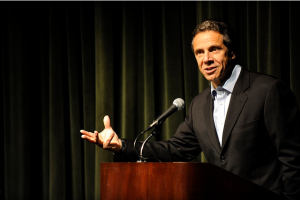 Courtesy of the Governor's office
Details are still emerging on Governor Andrew Cuomo's tax overhaul that state legislators are expected to review either later this week, or early next. But the basic elements of an agreement, according to news reports, appears to have been reached.
The assiduous Nick Reisman at Capital Tonight reports that the administration will seek to expand the tax breaks to five new ones. Upper-income earners will get relief from the upper-income "millionaires' tax" surcharge, but will pay more than what they would if rates were to reset to pre-surcharge levels at the end of the month. Middle income earners will, according to a number of reports, be looking at a tax cut.
According to Reisman, the new brackets would be:
$40,000 and below
$40,000 to $150,000
$150,000 to $300,000
$300,000 to $2 million
$2 million and higher
Jimmy Veilkind at the Times-Union has a great review of current and potential tax brackets here, just as a reference. The tax plan would raise an estimated $1.9 billion for the state, which isn't quite enough to fill that $3.5 billion hole Cuomo expects next year.
The economic package, as the Governor is pitching it, would also include some non-tax pieces according to Ken Lovett of the Daily News:
There's also a deal to amend a bill to allow livery cars to pick up street hails that could mean $1 billion in new revenue for the city.

Every new yellow cab medallion will be required to be handicapped accessible cars.

There is a commitment to move ahead with constitutional amendment on casino gambling, although no vote will be taken this year by the Legislature, the source said.

There's no agreement yet on where the casinos will be.

There's also agreement on a jobs program proposed by Gov. Cuomo for inner city youth — as well as the restoration of funding for various jobs initiatives that were cut from the current budget, the source said.

In addition, there are dollars for upstate flood recovery.
As one Albany-based political observer noted to me, part of the deal making process is to see what brings everyone to the table. From the Assembly Democrats side, a more progressive tax code, which allows for the promised returns of funds for schools and economic programs, as well as targeted efforts to combat persistently high urban youth under employment, looks pretty good.
For the Senate Republicans, though, only the New York Post appears to give an indication of what might be on the table. Fred Dicker and Erik Kriss report that lowering taxes on the middle class as well as partially curtailing the MTA payroll tax are in the works as bones to Senate Majority.
But then there's the specter of redistricting. With the court case loss allowing predominately upstate prisoners to be counted in predominately downstate districts, Senate Republicans have increasingly with their political backs against the wall. The special session gives Senator Dean Skelos a unique window of opportunity. It wouldn't be the least bit surprising to see Senate Republicans try to leverage the situation to get the Governor to back off his threat to veto partisan-drawn lines in some way.
The Senate Republicans are headed back up to Albany to conference tomorrow. Assembly Democrats are conferencing at 3 pm today. A number of outlets are reporting that a deal is "imminent".