Common Cause submits its own redistricting maps, drawn on a blank slate
The good-government group, and regular critic of New York's legislature-led redistricting process, todayunveiled its proposed maps for both the state legislature and Congress. The lines were drawn wholly divorced from the current maps and who the representatives are, according to Common Cause. They say they began with the most basic geographic boundaries—towns, cities and county lines—before adding demographic data to create what they say are non-partisan alternatives to gerrymandered districts.
"We have been outspoken about the problems with the current process, which is characterized by partisanship and political self-interest," said Common Cause's executive director Susan Lerner during a conference call. "Our goal has been to show that there is no practical impediment—it's only a political one—to achieving fair, non-politicized district maps."
Common Cause's maps were released in partnership with Newsday, and the interactive map database "U Map NY" is located here.
Let's take a look at these by legislative level, and keep it focused on the city.
Note: All Common Cause's population percentages are voting-age population.
Congress
It's important to remember that all New York State Congressional districts have to grow thanks to a loss of two seats in Congress. Common Cause's maps, because of the guidelines they applied, end up with four Congressional districts that, if implemented, contain no sitting Member of Congress.
Queens highlights
There are a number of new districts that don't have Members of Congress currently residing in them—it was truly an incumbent-blind process. It's interesting to see that in the new 5th Congressional district, which shadows Congressman Joe Crowley's current district, Crowley isn't a resident. The current 7th Congressional district runs between Southeastern Bronx and Northern Queens. The new lines would increase the Latino and Hispanic population to make them the majority.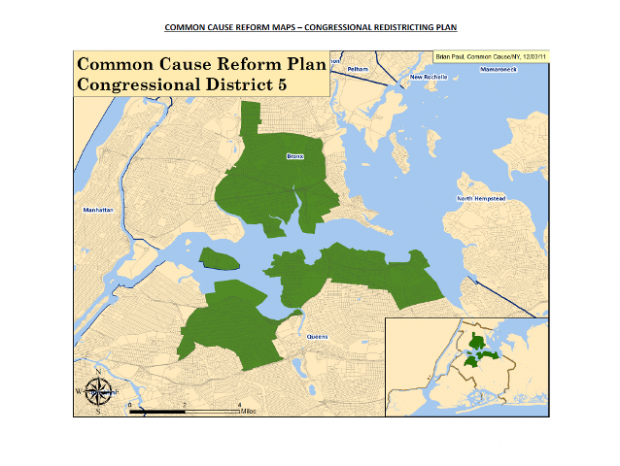 Additionally, the 9th Congressional district--which had swung from Central Queens down into Brooklyn, cutting the Rockaway Peninsula in two—is reimagined as a wholly-contained Central Queens district. It would be the home of a large Asian minority—but not a plurality, which we showed was practically impossible--which, by the 2020 Census, could easily be the framework for the city's first majority Asian Congressional district.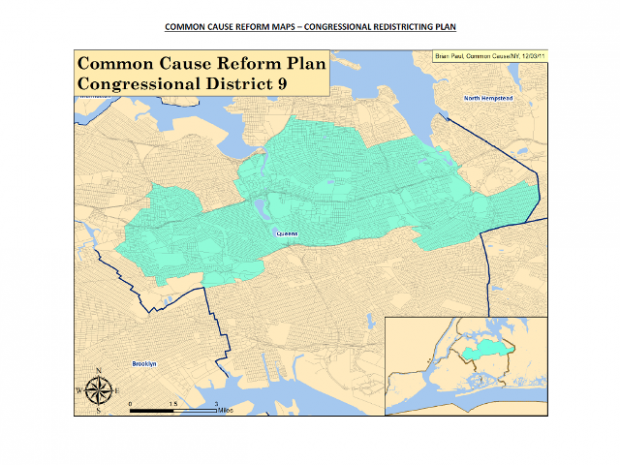 The remainder of the current 9th would be absorbed by what is mostly currently Congressman Greg Meeks' district. Queens County is not protected under the Voting Rights Act. That helps allow Common Cause to redraw a currently Black-majority district (51.8 percent) as a Black-plurality 6th district (45.1). It's interesting to see Common Cause's district beside the NAACP's version, which keeps the district majority Black (50.14 percent), namely by keeping the peninsula divided—something you'll hear some Rockaway residents grouse about.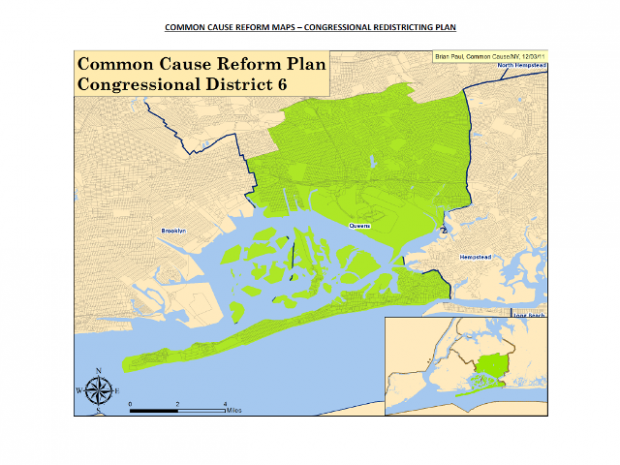 Brooklyn highlights
The two big interest are the Black-majority Congressional districts in Brooklyn—Congresswoman Yvette Clarke's 11th and Congressman Ed Towns' 10th. (Congressman Jerry Nadler and Congresswoman Nydia Velazquez essentially keep the same districts profiles). We took a look at the changing landscape of Brooklyn's historically Black Congressional districts here.
Both districts grow and are less majority Black—as we noted will undoubtedly be the case. It's worth, again, taking a look at the NAACP maps alongside Common Cause's. They take much different paths. The 10th district in Common Cause's version moves further to the West, above and into Clarke's current district. This allows Clarke to move further south, where large portions of the Black population have been moving in recent years.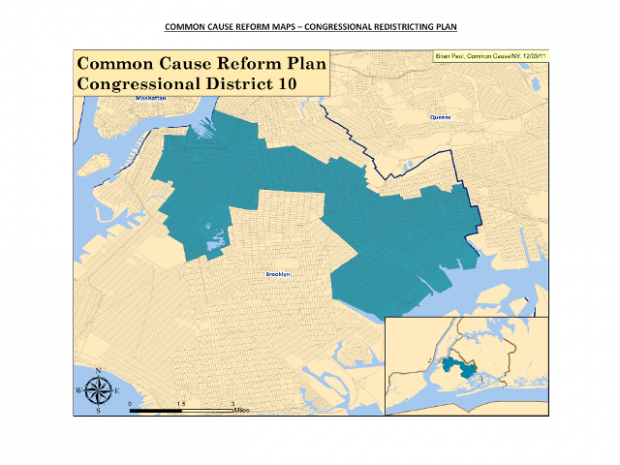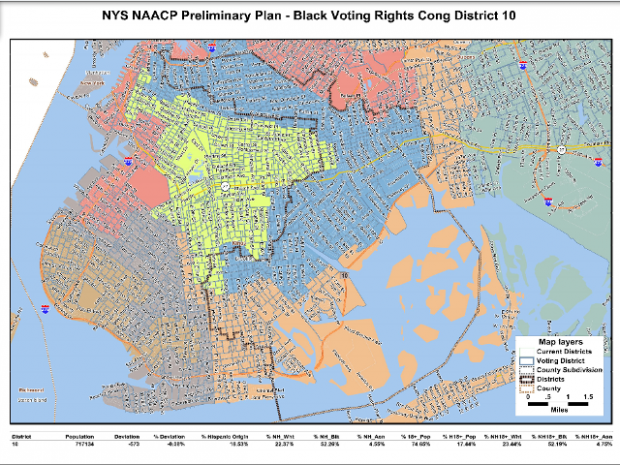 In the NAACP maps, Towns district moves in the opposite direction, cutting the 11th off from the largely Caribbean population near Canarsie. Instead, Clarke's district grows just a bit to its north and east, and ends up coming in 917 people below the required total of 717,708 people per district. By comparison, Common Cause's highest deviation is 336 people.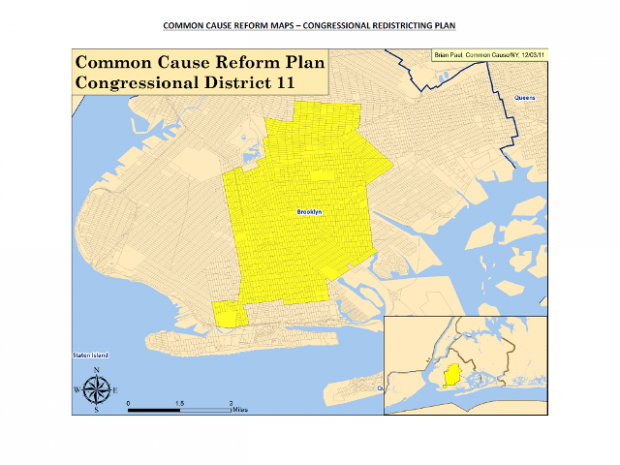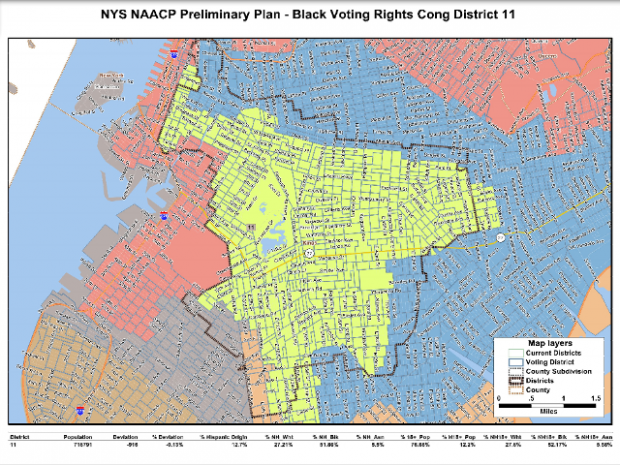 Finally, the Black percentages for both are interesting. All percentages are for Black voting age populations, as they were consistent with both sets of maps.
NY-10: NAACP = 52.19% vs. CC = 52.8%
NY-11: NAACP = 52.17% vs. CC = 50.8%
Staten Island highlight
As there's only one Congressional district on Staten Island, there's only one highlight. What's worth noting here is that Common Cause worked to keep the demographic profile of the district similar in their new maps. To do so they had to swing the Brooklyn side all the way over to take in a large chunk of more conservative white voters in southeastern Brooklyn—the area that delivered the 9th Congressional seat to Republican Bob Turner.
Manhattan and the Bronx highlights
I'm putting these two together because the biggest changes that occur affect them both.
Common Cause divides up Northern Manhattan into two Latino districts, breaking up Congressman Charlie Rangle's 15th district. The truth is, of course, that Rangel's district is already majority Latino. Common Cause actually strengthens the Black voting power in its extension across the Harlem River into the Bronx. The new 15th is now a super minority-majority district.
The other big causation is that the western portion of the Bronx is aligned with the heavily Dominican areas of Northern Manhattan. This realignment also cuts up Congressmen Elliot Engel and Jose Serrano's districts, putting them both in the same new 14th district.
Compare these to the map drawn by the NAACP that crosses three counties and leaves New York City to give Rangel a majority-Black district—something that hasn't existed in reality for years.
The Assembly and State Senate highlights
It's interesting to compare the Unity Maps here, drawn by the Asian American Legal Defense and Education Fund, LatinoJustice and others; and Common Cause. Common Cause maps do the following regarding minority districts:
Increase the number of Asian majority Assembly districts from one to three--two in Queens, one in Brooklyn
Creates an Asian majority Senate seat in Queens, and a plurality seat in Brooklyn.
Creates 16 majority voting-age population Hispanic/Latino Assembly districts.
Creates 6 majority Latino/Hispanic districts across the city.
Creates two new Black Assembly seats--one in Brooklyn and one in the Bronx.
Additionally, it should be noted Common Cause increased the number of State Senate seats downstate, from 28 to 29, stating:
During the last redistricting cycle, Senate Republicans chose to only draw 28 districts within New York City-Southern Westchester, with 7 districts in Queens overpopulated at almost +4% and 21 districts in the rest overpopulated at +1.6%. Drawing 28 districts in New York City-Southern Westchester instead of 29 is a clear political gerrymander to avoid an additional likely Democratic seat upstate...

If the appropriate 29 districts are drawn in New York City-Southern Westchester, the populations of the districts are much closer to the statewide average at -0.65%. The Brooklyn-Queens border must be crossed by a senate district to achieve uniform population size across all five boroughs.
This is just a first draft of Common Cause's maps, and the first of any outside group to try and do all three levels of legislative government across New York State. It's a Herculean task. I'm sure they'll be receiving lots of feedback and plan to update maps as more data becomes available.