Republicans seek another Senate seat in Brooklyn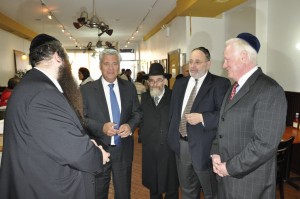 City Hall News had a note about this this morning, and it's something I had wanted to point out last week when it happened. Republican Senate Majority Leader Dean Skelos of Long Island and the only Republican State Senator in Brooklyn, Marty Golden, did a photo-op at an Orthodox Jewish-backed soup kitchen in Brooklyn.
Skelos has been eyeing the communities of the 27th Senate District, currently held by indicted Democratic State Senator Carl Kruger, and more specifically the Orthodox community as a possible pickup to the Republicans' slim majority in the Senate. From City Hall:
The majority leader was there last week to help chop vegetables and serve food at the Jewish Met Council's Masbia soup kitchen in Midwood, but also took some time to consider the possibility of capturing Kruger's district in next year's election. Skelos said Rep. Bob Turner's win in the neighboring Ninth Congressional district bodes well for the Senate Republicans' chances of winning in the 27th district.
Watch for changes in the redistricting map produced by Senate Republicans, as they seek to strengthen their push for another seat in deeply Democratic Brooklyn.