With minimal changes, federal court accepts magistrate's congressional maps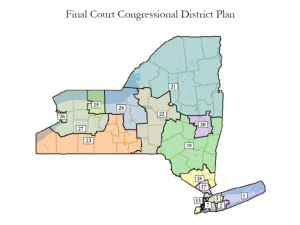 Courtesy of the Eastern District Court.
As expected, Magistrate Judge Roanne Mann's proposed congressional map plan today. With only a few minor changes, the three-judge court accepted the 27 districts where candidates seeking to be on the primary ballot June 26 will be able to begin collecting signatures tomorrow.
"In the face of an outdated congressional districting plan, the application of which
would plainly violate the requirements of federal law, and of the New York legislature's
complete abdication of its congressional redistricting duty, this court is obliged not only to
recognize a violation of law but also to create a new redistricting plan to ensure against the
disenfranchisement of state voters in the 2012 congressional elections," the judges wrote in their judgement.
The changes made by the three judges can be seen below after the jump.
Plaintiffs in the case, in particular the lawyers working on behalf of the Senate Republicans, had argued before the three-judge court that Mann should have taken the present districts' cores and incumbents into account in her maps. Additionally, a number of arguments before the court sought for specific communities--namely the African American community in Harlem; the Dominic and Latino communities in northern Manhattan, the Bronx and northern Queens; and the Jewish community in southern Brooklyn--to get districts they felt were fairer. The court rejected all these arguments.