1956 National Book Awards, Part 2 - Senator John F. Kennedy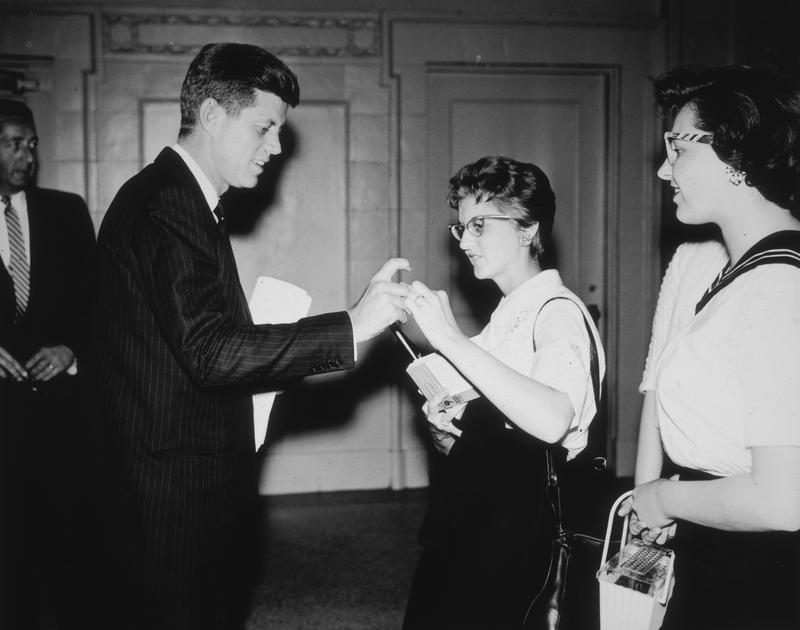 JFK addresses his colleagues. Or are they his adversaries? In this speech at the 1956 National Book Awards, the junior senator from Massachusetts would appear to be among his fellow writers. As the introductory speaker notes, Kennedy's book of essays, Profiles in Courage, is "rapidly climbing the bestseller list." Yet the tack he takes in his keynote speech is to set in opposition the writer and the politician. He playfully casts himself as being "in the camp of the enemy; you, the authors, the scholars, the intellectuals, and the eggheads of America, the traditional foes of politicians in every part of the country."
He makes a plea for a truce between the political and literary world. Citing such historical oddities as a poem by Senator Sam Houston, he argues that in the past the two sides were not so far apart. "Where are the scholar-statesmen of yesteryear?" he laments. Claiming they should be natural allies, he points out how politicians, who actually deal with the rough-and-tumble of conflict, have a great deal to offer the sedentary author in the way of dramatic material and life experience. Writers, for their part, can keep politicians honest, prevent them from going down "the primrose path of never-ending compromise." Perhaps most impressive about this speech are the many historical and literary references Kennedy uses to illustrate his points. Casually mentioning Charlemagne, Lear, Byron, and many others, he displays that rare politician's ease in seeming to share with his audience certain basic values. He flatters them (or perhaps he is being sincere) in suggesting that both they and he have a significant role to play in the future workings of American democracy. He treats them as his equal. By the end one senses he has won over yet another constituency, as he sets his sights on the 1960 presidential election.
---
The question of John F. Kennedy's authorship of Profiles in Courage, which won the Pulitzer Prize the following year, has long been a subject in which politicians and writers truly do share a compelling interest. Almost immediately upon publication rumors swirled to the effect that work was largely ghost-written by his aide Ted Sorensen. Despite Sorensen's denials, these persist to the present day. In the end, Sorensen described what can be best seen as a murky creative process. The website Liquisearch explains how:
In May 2008, Sorensen clarified in his autobiography, Counselor, how he collaborated with Kennedy on the book: "While in Washington, I received from Florida almost daily instructions and requests by letter and telephone – books to send, memoranda to draft, sources to check, materials to assemble, and Dictaphone drafts or revisions of early chapters. Sorensen wrote that Kennedy "worked particularly hard and long on the first and last chapters, setting the tone and philosophy of the book" and that "I did a first draft of most chapters" and "helped choose the words of many of its sentences." JFK "publicly acknowledged in his introduction to the book my extensive role in its composition." Sorensen claimed that in May 1957, Kennedy "unexpectedly and generously offered, and I happily accepted, a sum to be spread over several years, that I regarded as more than fair" for his work on the book. 
As for the speech's olive branch held out to writers and, by extension, the arts in general, the Kennedy White House was certainly perceived as a more welcome to and appreciative of artists than its Eisenhower-era predecessor. Some of this must be attributed to Jacqueline Kennedy, who, as her subsequent career in publishing showed, genuinely respected the written word. As for Kennedy himself, the enigma, the essential unknowability of a master politician's true feelings (if he has any) makes his attitude difficult to judge. Even a website as naturally inclined to praise as that of the JFK Library admits: 
JFK enjoyed literature and poetry, especially the work of the Romantic era English poet Lord Byron and the American Robert Frost. Jacqueline Kennedy loved poetry as well and was also deeply committed to both music and the visual arts. There is little evidence that JFK was particularly sophisticated about the arts. He read widely, but never considered himself an intellectual or an original thinker. His musical tastes ran to Broadway show tunes and Irish ballads rather than Mozart or Beethoven. Once, when asked about the president's taste in music, the first lady replied that his favorite piece was "Hail to the Chief." 
Audio courtesy of the NYC Municipal Archives WNYC Collection.
WNYC archives id: 150222
Municipal archives id: LT7121