A socialist and a reporter try to walk into a NY-9 debate...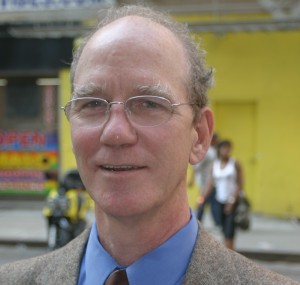 I managed to get on the wrong bus on Cross Bay Boulevard. Figuring I'd save myself a few minutes in the rain, I jumped on at 157th Street, and hit the button to get off across from the Cross Bay Diner at 161st Street.
Ten minutes later I was at the foot of the Cross Bay Bridge, giving Chris Hoeppner -- the Socialist Workers Party candidate in the congressional race to replace Anthony Weiner -- bad directions. He finally found me, a half hour late and soaked.
I apologized for the rigmarole, but Hoeppner skipped quickly past the $3.25 in tolls he just paid, each way, on the bridge. We were on a tight schedule; he had a debate to attend.
"I grew up in Woodside," Hoeppner said as we drove through the rain. "I've been involved in politics for 40 years."
The windows fogged up — it was an older car with a barely working defroster — bringing visibility in the downpour to a dangerous low. Hoeppner didn't seem to notice as he started firing away at the absurdness he sees in the race. His voice pinched emphatically as he broke down how "they"—the Democrats and Republicans—fail working people.
"We're in a depression," he said. "Any worker knows that. They're not even addressing the main question we're facing, which is jobs."
After Governor Andrew Cuomo set the special election to fill the vacant 9th Congressional District for September 13, the New York Times editorial board blasted the governor. It called the move undemocratic and said anyone other than the party boss picks had a "fat chance" of collecting enough signatures to get on the ballot.
Then the Socialist Workers Party gathered 7,000 in two weeks. Hoeppner is the only other candidate in the race besides Republican Bob Turner and Democrat David Weprin. He says he doesn't have anything personally against either candidate, but sees them as indistinguishable on the majority of issues.
"There's not any fundamental difference," he said — and that goes for everyone, including President Obama. He said the campaign, for him, is about raising the broader issues facing workers, and encouraging people to get more directly involved in a social struggle he sees as inevitable.
"They want us to bare the brunt of the crisis they crated, the capitalist," he said as we turn off Cross Bay towards the debate at St. Barnabas Church. "Workers didn't create it, yet they're cutting our hospitals, our schools, our pay."
Hoeppner says he's opposed to the wars in Iraq and Afghanistan, and against the bailouts of the financial system. He says he's for a smaller government, devoid of a bloated bureaucracy. He considers health care a fundamental right, opposes Obama's immigration policies in favor of full legalization "for the unity of the working class," and wants to protect the social safety net against any cuts, from anyone.
"When I got out in campaign in Forest Hills, in Sheepshead Bay, people don't want to talk to me if I say I'm a politician. I have to explain to them, I'm not a politician like you know," Hoeppner said. "I work as a machine operator inspector in an electronics plant. I'm not a banker; I'm a worker, OK? And I'm a socialist, and then I say, I'm for jobs, fighting for jobs."
We park and talk for a bit. I'm told I and other reporters are behind because we get caught up on the perception that people don't like the word "socialist."
"That's not a barrier," Hoeppner said. "The crisis is so deep that people are looking for an alternative to the Democrats and Republicans."
The debate was to begin soon. Hoeppner struggled to get out of his car. He recently broke his foot and hobbled on crutches through the rain towards the church. In his tweed jacket, shirt, tie and cast boot, the gray-haired Hoeppner didn't look much like a congressional candidate headed to a debate in a neighborhood with so many white brick homes and well-groomed lawns.
And, in fact, he wasn't. Hoeppner previously participated in a debate at a Jewish temple in Neponsit on the Rockaway Peninsula, but the publishers of the two newspapers hosting this debate — The Queens Chronicle and the Forum News — told Hoeppner he wasn't invited. He was hoping he could change their minds.
In the basement, the candidates in a local State Assembly race were on stage for their own debate. The metal chairs set out for about two hundred were decently filled. Hoeppners sat in the back, waiting for the break before the congressional debate to search out the publishers. Listening to the Democrat and Republican assembly candidates, he periodically shook his head.
"There's just nothing of substance," he muttered.
Hoeppner spied one of the publishers, Mark Weidler, on stage. After the first debate finish, he hopped on his crutches and made his way to the front with some supporters. One of them got Weidler's attention. She introduced Hoeppner, who said he'd like to be included in the debate. Weidler's face darkened.
"I only have room for two," he said. "That's the arrangement I made."
A last ditch effort to enlist David Weprin's help — he said it was fine with him if Hoeppner debated — failed to persuade Weidler so Hoeppner took a seat near the front and watched.
Weprin and Turner began. Their respective sides jeered and cheered as things got rowdy again at another 9th Congressional debate.
Hoeppner sat quietly. He gazed out over the crowd, wearing a look of perspicacious disappointment. The crowd swung back and forth on a partisan pendulum as the two candidates vaunted their positions and denounced their opponents.
"It's just business as usual," Hoeppner said.