De Blasio joins striking Verizon workers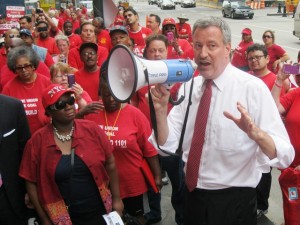 Public Advocate Bill de Blasio joined striking members of Communication Workers of America earlier this afternoon, where voiced his support for the union in their battle with Verizon over contract terms.
"Brothers and sisters, you are fighting for the middle class and working class people in America," de Blasio told the cheering crowd. "Because what has happened in recent years is a lot of people have gotten wealthier and a lot of people--the vast majority--have gotten poorer. This is not the America we've dreamed of."
CWA has been on strike since Monday after the union contraction negotiations stalled. The union has said Verizon is demanding too much in benefit cuts.
"This is a significant moment in our city's history to have a company this big and this important try to across the board try and roll back job security, benefits—all the fundamentals, all at once—and to me it's a moment to say this will take us in the wrong direction," de Blasio told reporters. The public advocate went on to say that, should the union and Verizon fail to come to an agreement, he believed Verizon's business with the city should be reconsidered.
"Even a company as big as Verizon fundamentally depends on public contracts and tax breaks from all levels of government," he said. "I don't think its fair to reward them if this is what they're doing."
According to a CWA spokesperson on the picket line, Verizon and CWA have begun low-level talks to reopen negotiations and possibly have workers return to work while a contract was still be hammered out.