Councilman Halloran's entrance gives Dems in NY-06 primary a new target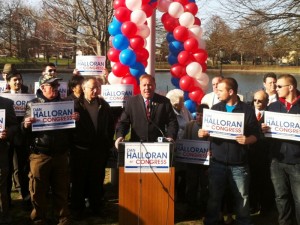 Courtesy of the Halloran campaign.
The cast of characters is assembled. Republican City Councilman Dan Halloran's official announcement yesterday that he is running for Congress in the new 6th District in Queens capped a week or so of campaign launches. Unless a Republican challenger emerges, Halloran will face whichever of the three Democrats pulls out a win in this year's sprint of a primary race.
"I am running for Congress because the president and the Democrats' policies have failed, and New Yorkers need a new voice," Halloran said in a statement announcing his campaign's launch. "Democrats in Washington, led by President Obama, have spent us into financial ruin. They have failed to grow our economy and have led us deep into a harrowing recession. And they have thumbed their nose at Israel, calling for a return to its 1967 borders and showing an unwillingness to stand up to our mutual enemy, Iran, who wishes to destroy us. My Democratic opponents are nothing but a rubber stamp for this president's failed leadership."
Halloran was first elected to the city council in 2009 after a campaign that took some interesting as well as ugly terms. Halloran has been called a "pagan" after reports connected him to a group that worshiped Nordic and Germanic gods. Halloran was also accused of race baiting white voters against his Korean rival, Democrat Kevin Kim.
There's a decent chance Halloran could again face an Asian candidate from the Flushing area. The early Democratic frontrunner is Assemblywoman Grace Meng. Last week Meng received the backing of the Queens County Democratic organization. This week she officially launched her campaign, listing a large number of Queens Democrats as supporters.
At least from the statements from the campaigns, it looks like Halloran and Meng arepicking up where now-Congressman Bob Turner and Assemblyman David Weprin left off in their special election last September. Republicans appear to want to continue to make the the race about Obama and, in a heavily Jewish district, Israel. Democrats—at least those around Meng—lead with House Republicans' fiscal combativeness and attacks on the social safety net in Meng's statement on Halloran entering the race:
I look forward to a healthy discussion of the issues facing our Queens neighbors and am eager to hear how Councilman Halloran plans on justifying his party's embrace of the Ryan-Boehner budget which would gut vital social programs for seniors, the disabled, and working families. The deficit needs to be reduced and the budget balanced, but not on the backs of middle-income families and not at the expense of Social Security and Medicare.  And I'm particularly interested to hear Dan's take on recent partisan attacks on women's access to health care.
But Meng isn't the only Democrat in the race. Assemblyman Rory Lancman has been gunning for a shot at congress since the Turner-Weprin special election last year. His campaign also issued a statement on Halloran's entrance in the race, casting the Councilman as a Tea Party fiend who would take us back to the bad old days before Obama:
For eight years, the Republican Bush/Cheney agenda allowed Wall Street to run amok, stretched our armed forces to the limit, undermined a secure retirement by allowing employers to weaken pension protections, and promoted some of the most anti-woman health policies in recent memory. Today, the same policies that brought our country to the brink of ruin are being embraced by Republican Tea Partiers who want to return us to those days.  Republican Representative Paul Ryan's latest budget cuts Medicare spending 50% and Medicaid spending 75% to pay for a 12.5% tax break for millionaires; Republican intransigence on raising revenue to lower the deficit will trigger irresponsible cuts to our defense budget; and Republicans want to strip women of the ability to make health care choices for themselves.
Halloran could also face his colleague in the city council, Queens Councilwoman Elizabeth Crowley, who announced her campaign last week. Unlike her opponents for the Democratic primary, Crowley, through a spokesperson, highlighted her history as a candidate who beat a strong Republican rival.
"Elizabeth Crowley is the only Democratic candidate in the sixth district who has fought and won tough general elections. She is the best candidate for Democrats this November," said campaign spokesman Eric Yun in the statement. "The last thing New York needs is another vote for the House Republican majority and their agenda of cutting taxes for millionaires, dismantling Medicare and Social Security and attacking women's rights."