Former Comptroller Bill Thompson is the first 2013 mayoral contender with a website--updated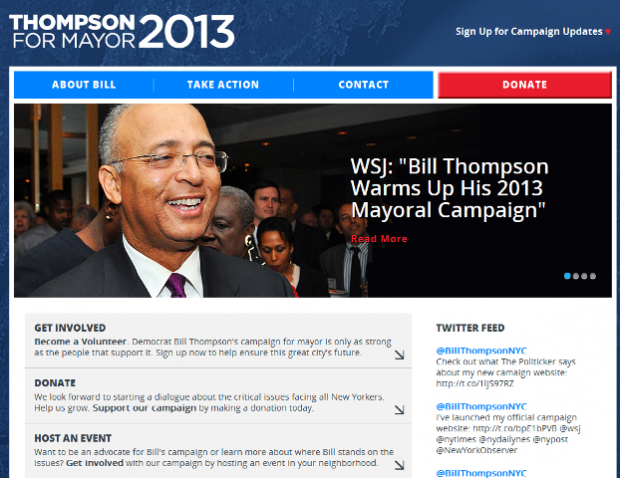 Bill Thompson has been trying to tell you: He's really, honestly, truly running for mayor in 2013!
Add an official website to the list as proof: www.billthompsonformayor.com The former city comptroller and 2009 mayoral candidate unveiled his official 2013 website today. Unfortunately the site is giving a long error message when trying to be accessed so a picture of it isn't really possible--check out www.billthompsonformayor.com to see it when it's back up.
[ "According to the web master, so many people clicked in to view www.billthompsonformayor.com that the web site host could not handle the sheer volume. The site is live again," said Tom Butler, a Thompson spokesperson.]
"Over the next two years I hope to build a campaign of ideas and advance a long-overdue discussion on the challenges facing our great city," Thompson said in a statement about the site.. "It's clear that we need compelling and innovative approaches to our most pressing concerns: jobs, education, public safety, affordability, transportation and more."
So far Thompson is the only candidate besides Manhattan Media publisher Tom Allon to officially declare his intention. New York City Council Speaker Christine Quinn, the current city comptroller John Liu, Public Advocate Bill de Blasio and Manhattan Borough President Scott Stringer are all likely competitors for the seat as well.