New York has many examples--good and bad--of what redistricting could look like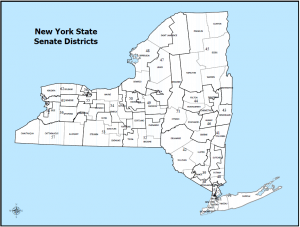 Every ten years New York goes through a process of redrawing its state legislative and congressional boundaries. The mutated district gerrymandering and political cynicism that comes out of this process have led to calls for change.  A coalition of good government groups, former and current elected officials, and concerned citizens have pushed for an independent process for creating new districts. Get politicians out of the way, the thinking goes, and you'll have districts that better reflect—and serve—New Yorkers.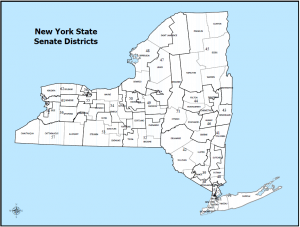 The public is behind the idea, according to a recent poll showing 50 percent of voters supporting a redistricting commission independent of the state legislature. But what does independent redistricting actually look like?
A selected history
Only a few states have actual independent commissions: Arizona, Hawaii, Idaho, New Jersey, Washington and California. These commissions have specific rules for who can be on the commission, and guidelines for how district lines should be drawn. In most states, the legislature has a direct role in picking the members of the commission.
For example, in Idaho the majority and minority parties in each chamber pick a commissioner, as does the head of each statewide party. None of the commissioners are allowed to be current office holders.
The commission has 90 days to come up with a plan, during which the public is allowed to comment and provide their own plans. The commission then picks a plan and votes on it. Neither the legislature nor the governor has a say in the process.
In Arizona a five-person commission is comprised of two appointees from each party. The fifth person, who also serves as the chair, can't be registered in a party represented on the commission—in other words, a Democrat or Republican.
There the commission is instructed to follow a set of guidelines that including adhering to the Federal Voting Rights Act for minority representation, equal population totals among districts, and keeping them geographically cohesive. Again, as with Idaho, the state legislature and governor have no power over the process. What the commission decides should be the legislative boundaries become law.
No magic bullet
So what drove states to move towards independent redistricting? Keesha Gaskins, senior counsel with the good government group the Brennan Center for Justice, says it came from a push back to "the idea that redistricting is a job security program for incumbents."
"At the end of the day it had to do with the perception by citizens and elected that the redistricting process is improved by coming away from the politics of redistricting," she said.
This is certainly something with which New Yorkers tired of Albany gridlock and hijinks can sympathize. But, Gaskins noted, just because something is independent doesn't mean it gets rid of some of the issues faced by voters. Even with all of these steps to get away from legislators having control over the redistricting process, many of the problems facing states like New York can still exist.
"Redistricting is still redistricting, no matter who does it," she said. "At the end of the day, taking it out of [the legislature's] hands eliminates that problem, but it doesn't magically turn it into the perfect process simply the virtue of calling it or making it an 'independent commission.'"
For example, Republican lawmakers in Arizona were unhappy earlier this year over their ability to pick candidates for the commission. The issue prompted a lawsuit from the Republicans.
In New Jersey, despite Republican Governor Chris Christie's reported heavy involvement behind the scenes, Democrats were able to get their map approved over Republican objections.
Idaho saw a court throw out all proposed redistricting plans after the commission couldn't meet its deadline. Now a new commission has to be put together and start all over.
A solution, but for which problem?
As these examples show, there are partisan concerns and battles even when so-called independent commissions pick district lines. And there's still another way of looking at "independent" redistricting that focuses more on fulfilling a set of requirements for the districts themselves than who picks the districts.
In Iowa, an agency connected to the state legislature is responsible for drawing the lines every ten years. The mapmakers use the census data to try and create districts based on a series of prerequisites like size, and keeping cities and counties intact. However, party affiliation and incumbency are not taken into account at all. And while the legislature can veto the plan, the agency is still responsible for drawing the next draft.
But is redistricting really the issue we should be focusing on if we want to solve the ills of our electoral system?
"Right now we have a system of nakedly partisan behavior," said Rob Richie, executive director of the voting rights group Fair Vote. "New York has for years rightly been put up on a pedestal as one of the worst examples in the country.
With the state legislative bodies traditionally drawing their own districts—and, thus, entrenched political power—it makes sense why New Yorkers see redistricting as an obvious solution, according to Richie.
"How those lines are drawn, it's better to draw them as far, non-partisan—for us—criteria-driven way as possible," he said, pointing to the Iowa system as the best way to do this.
But he warned that the root cause, from his perspective, wouldn't be solved by simply changing simply who or how districts are drawn.
"You can draw the most wonderfully fair districts," said Richie, whose group advocates for changing the voting system from the current winner-take-all process. "At the end of the day, most people probably will live in a district where their acts of political participation won't matter. And that's just not what democracy needs to be."
Below are links to a number of groups who have done great work on redistricting. Check them out to find out more about the process.
Common Cause's national redistricting page
The Brennan Center's redistricting resource page
Fair Vote's redistricting resource page
The US Census's overview of the process
The Rose Institute of Claremont McKenna College -- Redistricting in America
The site of New York's legislative task force examining redistricting