Councilman Gennaro on draft DEC fracking rules: One step closer to possible "unprecedented contamination"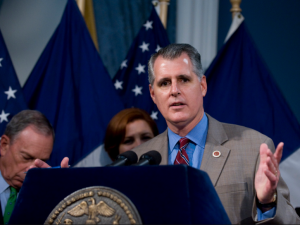 William Alatriste / NYC Council Flikr
New York City Councilman James Gennaro is out with a strongly worded statement on the draft guidelines for hydrofracking released today by the Department of Environmental Conservation.
"Today's release of [DEC's] draft regulations for hydraulic fracturing brings us one step closer, in my opinion as both an environmental public policymaker and a geologist, to the possible unprecedented contamination of New York City drinking water and other drinking water supplies throughout the State and the degradation of a large swath of our state through the irreversible industrialization of 'hydrofracking'," Gennaro said in the statement.
He went on to criticize DEC, saying, "[T]he DEC...chose to ignore hard science and its obligation to protect the drinking water supply for nine million New Yorkers in favor of its zeal to advance hydraulic fracturing."
Gennaro called on Governor Andrew Cuomo to stop the environmental agency's process. Today the agency announced draft regulations for hydrofracking. A public comment period on the proposed rules will last until December 12, 2011. DEC is holding a series of meetings for public comment that will last from 1:00 p.m. to 4:00 p.m., and 6:00 p.m. to 9:00 p.m. for each meeting:
Nov. 16: Dansville Middle School Auditorium, 31 Clara Barton St., Dansville, NY 14437
Nov. 17: The Forum Theatre, 236 Washington Street, Binghamton, NY, 13901
Nov. 29: Sullivan County Community College, Seelig Theatre, 112 College Rd, Loch Sheldrake, NY 12759
Nov. 30: Tribeca Performing Arts Center, 199 Chambers Street, New York, NY, 10007
From the DEC press release:
Once the comment period is complete, DEC will review the comments on the revised draft [Supplemental Generic Environmental Impact Statement] and proposed regulations and prepare responses to be released with the final SGEIS and final regulations. No permits for high-volume hydraulic fracturing will be issued until the SGEIS is finalized and DEC issues the required Findings Statement.