Assemblywoman Meng on Being a Bundler for Liu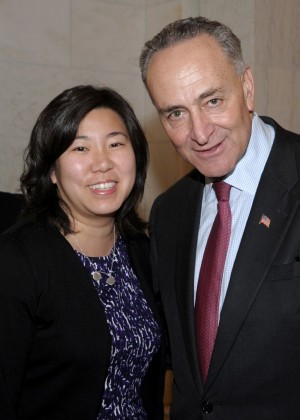 The New York City press corps waited excitedly for embattled Comptroller John Liu's latest campaign finance report. On top of a sort of a schadenfreude-like desire to see just how bad Liu got hurt by his fundraising scandal, reporters also anticipated the list of other bundlersthe Comptroller had been so reticent to reveal.
They were rewarded this week when the semi-annual filings came due on January 17. Within hours the world saw the list of intermediaries, who "bundle" multiple donations together on behalf of a candidate. The infamous Pan, who is accused of trying to help an FBI agent posing as a wealthy donor to skirt campaign finance laws, was there among them.
And so was Queens Assemblywoman Grace Meng.
Seeing Meng's name might have surprised some observers; it was the understandable but ultimately unfair negative association the term "bundler" has received, especially when connected with the Liu campaign.
"The issue is not that he used intermediaries, because intermediaries are built into the law. Otherwise, you wouldn't have forms to register and such," said political consultant Michael Tobman, who has worked with Meng since her 2008 primary. "The issue is who called, how much pressure, what was said, and where were the calls made."
All the potential 2013 Democratic candidates use intermediaries. Council Speaker Christine Quinn actually has more listed in her campaign filings than John Liu. Even so, Meng's name appearing in Liu's filing stood out.
For those who know Meng's history, the real surprise was that she was helping Liu at all.
"We've had a pretty rocky history," Meng said of Liu. She noted her and her father, former Assemblyman Jimmy Meng who held the seat before her, have run two times each since 2002. John Liu has never supported either of their campaigns. In fact, Meng's ticket to the Assembly got punched after she beat then-City Councilman Liu's former chief of staff for the job in 2008.
But since taking office the ice between the two has been thawing, according to Meng.
"When he won Comptroller and I won Assemblyperson, we have been slowly, gradually trying to become better friends, and work together, largely for the purpose of advocating for our Asian American community," she said. "This was sort of a small way for me to show my appreciation, extending an olive branch, and trying to build our friendship."
The Assemblywoman is far from Liu's top bundlers at $4,000 reported in Liu's filing. She said her donations came exclusively from family members, with a total of less than 10 checks total (the filing shows five). She said she submitted her donations in the summer, before Liu's fundraising issues arose.
"It was literally just me asking a few of my cousins and in-laws if anyone would be willing to write a check. It was done in a month," Meng said.
Meng acknowledge how sensitive the Asian community has been to the Comptroller's fundraising scandal. He is, as she noted, the highest-ranking Asian American official in not only the city, but in the state. She said the drive to fundraise for him is just as much a reflection of community pride as anything else.
"We're proud of him being elected as a citywide elected official," she said. "So it's our way of expressing support and hopefully for more people to be involved in the political process."