Weprin keeps focus on entitlements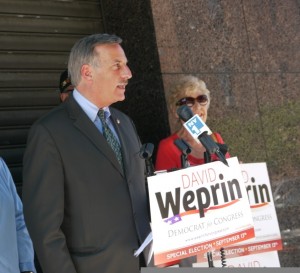 Using Rego Park's social security office as a backdrop, Assemblyman David Weprin sought to keep the issue of entitlements at the center of the congressional race out in Queens. The debt ceiling deadlock in DC was a threat to seniors' social security payments in August, he said, and would reduce the average senior's monthly income by more than $1,000.
"Seniors should not become the innocent victims of the Republicans' irresponsible, partisan games and their failure to negotiate in good faith," Weprin said in a statement. The campaign's decision to hold these events in the northern, heavily Jewish portion of the district looks like an attempt to focus older Jewish voters on their social security checks and Medicare payments, and away from Weprin's counterpart Republican Bob Turner's desire to make the special election in the 9th congressional district a referendum on Obama's support for Israel.