UPDATE: NY City, State comptrollers' audit targets MTA "diversions"
If you were traveling from central Queens inbound this weekend, you didn't need either New York State Comptroller Thomas Di Napoli or the city comptroller John Liu to tell you MTA track work and the Dante-like ring of hell it creates were a major inconvenience to riders. E and M trains running on the F line and the 7 train not running to Manhattan made getting to, say, Williamsburg from Rego Park required three separate trains and a shuttle bus, and created loads of unhappy weekend commuters. [NOTE: I'm trying to find an updated term for "strap hangers." If you've got any ideas, let me know. --Colby]
A new audit of the MTA's transit diversions--all those weekend and night reroutings "because of construction"--released today identified unaccounted for cost overruns in the millions, an overall increase in the number of diversions New Yorkers had to deal with, and a failure of the often-maligned agency to properly notify riders of impending work.
"When  the  MTA  fails to manage its service diversions properly, it's more than  an inconvenience; it's a waste of taxpayer money and it derails local businesses,"  Comptroller  DiNapoli  said in a statement. "The subway system is showing its age, but the MTA has to do a better job managing all aspects of these diversions, from rider notification to budgeting."
"Sadly  this  confirms  the  nagging  suspicion  of  riders,  residents and business  owners  alike,  that  subway  service  is  taken  down  more than necessary,"  Comptroller Liu added.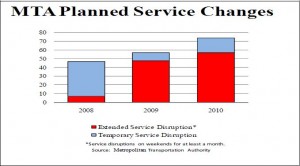 According to the joint audit, weekend diversions rose from 47 to 74 between 2008 and 2010. Over the same time period the number of diversions that lasted for at least month increased eight fold, from 7 in 2008 to 57 in 2010. Riders of the 7 train alone suffered nine consecutive weekends of diversions between January and March 2010.
While New Yorkers are all too aware of the inconveniences caused by weekend and night construction, the audit found tens of millions of dollars in cost overruns and waste that riders and taxpayers are footing to-boot. Night and weekend work often started late and ended earlier, the audit found, creating an estimated $10.5 million in unproductive costs.
Additionally, the comptrollers' offices found the agency failed to document why diversion work went over budget. On four projects the audit examined, the total estimated cost had run over by $26.6 million as of January 2011.
The audit also found the MTA failing to comply with federal law when printing notices only in English, and had printed notices of upcoming work for only two of the 50 diversions the audit examined.
UPDATE
A statement from the MTA on the report:
"Due to the 24-hour, seven day a week operation of the subway system, planned service diversions are necessary in order to perform maintenance and capital work.  We make every effort to minimize customer inconvenience by coordinating work --- performing multiple jobs in the same area so that we do not have to go back again.  However, some projects are extremely involved, requiring several shutdowns.  We strive to keep customers aware of the diversions, utilizing station, and in car signage along with announcements, both in stations and onboard trains.  Detailed information is also provided on the MTA website and through our email and text alerts."