Mayor Bloomberg's prepared remarks at the executive budget hearing in Albany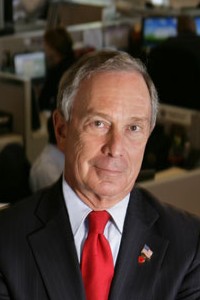 Courtesy of the mayors office
"Good morning. I want to thank our committee chairmen, Denny Farrell and John DeFrancisco; the ranking minority members of the committees holding this hearing, Assemblyman Robert Oaks and Senator Liz Krueger; and all the members of both the Assembly Ways and Means Committee and the Senate Finance Committee for this opportunity to testify today.

"Seated with me this morning are Mark Page, the City's Director of Management and Budget, and Micah Lasher, our Director of State Legislative Affairs.

"I've come to Albany this morning to express my strong support for many elements of Governor Cuomo's executive budget and reform plan for 2012 and 2013, to indicate where and how the Legislature can improve that budget and plan and to present elements of the City's own legislative agenda for this session.
"In his budget, the Governor has set an agenda for this session that is both far-ranging and ambitious. Its energy and vision are just what our State government needs. So at the outset, let me quickly summarize our many points of agreement with the Governor's priorities and strategies.
"They include: Creating a new pension tier for future State and City employees – an urgent reform, critical to curbing the current, unsustainable growth in public pension costs that threatens to overwhelm our capacity to fund essential government services.
"Ensuring compliance with a truly effective teacher evaluation process – a measure that New York City Schools Chancellor Dennis Walcott also endorsed in his testimony yesterday, and one that will help give children across the state the education they need and deserve.
"Empowering New York City to assume greater juvenile justice responsibilities and end reliance on State facilities that, despite their astronomical expense, have utterly failed either to help kids get their lives back on track, or to improve public safety.
"And providing very welcome Medicaid and other mandate relief to our city and to local governments in every part of the state.
"We also applaud the fact that the Executive Budget would impose no new broad-based taxes or fees on New Yorkers – many of whom are still struggling to get their family finances back on a firm footing.
"The two top items on the Governor's agenda – pension reform and teacher evaluations – both pose the same central question: Are we going to do what's right for New York's future?
"Let me turn first to pension reform. When I came to Albany for the first time as New York City's mayor, back in 2002, the City's pension costs came to about $1.5 billion. Today, 10 years later, they are more than $8 billion. That's a nearly 500 percent increase.
"Pension costs now account for more than 12 percent of the City's budget. That's more than the operations of our police, fire, and sanitation departments combined. And unless we enact sensible reforms now, our pension costs will only keep growing – and keep diminishing our ability to pay for schools, libraries, parks, and other essential services.
"We will, in short, be mortgaging our future to pay for our past. That must stop. We all know it. Just look around.
"In recent months, we've already seen pension costs push some American cities to, and even over, the brink of bankruptcy. Last fall, only an infusion of State money kept Pittsburgh's pension system solvent. In November, voters in San Francisco approved a rollback of future, and also some current, pension benefits for City workers. Similar measures could soon well go on the ballots in San Diego and San Jose.
"Thankfully, New York City is not in this boat. We are capable of meeting our pension obligations. But we also are at the point where pension costs are putting an ever-tighter squeeze on our ability to cover the costs of essential services.
"That's why this session needs to create the new pension tier for future State and City workers that we've long argued for, and that the Governor has proposed. It would not diminish pension benefits for a single current employee. It would do what's necessary to keep pension systems solvent for future workers.
"It would raise the retirement age, exclude employee overtime from pension calculations, bring progressivity into employee pension contributions and institute shared risks and rewards that would reflect the fluctuations of the market.
"It would also offer new employees the choice of a defined contribution option, with a flexibility and portability that many may find a better, fairer choice for them.
"This new pension tier would also do something else very important. It would save New York City approximately $30 billion over the next 30 years. And that's something that City taxpayers, and City workers, should all want to see happen.
"Because the fact is that City employees need City services, too. Those savings of $30 billion will help pay the salaries of the teachers of their children, of the police who patrol their streets and of the firefighters who might be called on to save their lives. It's the right thing to do; and this may be our last, best chance to do it.
"Last summer, we lost a great New Yorker: Former Governor Hugh Carey. History will remember that in a time of intense crisis, he did what was right for New York's future. In that same spirit, let's do what's right for New York's future now.
"And let's also do what's right for the students who truly are the state's future. Certainly, the Governor's schools agenda takes some very welcome steps in that direction. We strongly support his emphasis on teacher evaluation.
"And that's not simply, or even primarily, because it's a precondition to retaining hundreds of millions of dollars in Federal 'Race to the Top' funds for schools across our state. It's because, as Chancellor Dennis Walcott stressed yesterday, the education of every student in our city and state is on the line.
"It's becoming clearer every day that the key to success in education is: great teachers. And professional evaluations that go beyond what we have now – 'pass/fail' grades that are not very informative about teacher quality – are an essential tool for assessing and improving that teacher quality. It's really just that simple. That's why we fully support the Governor's efforts to put an effective, statewide teacher evaluation process in place, this year.
"The Governor's budget also proposes to increase education foundation aid to New York City by $136 million. This is certainly welcome.
"However, the budget mistakenly lumps that amount, and $45 million in expense-based aid to New York City schools that covers items like student transportation, together with $44 million in building aid. But we've got to keep building aid separate – and not just for accounting purposes.
"Because common sense tells you that when you mix operating and capital funds together, investment in capital improvements almost inevitably suffers as a result. Immediate operational needs invariably trump longer-term capital needs. But New York is a growing city; we can't afford to let that happen.
"Our Administration – with matching funds from the State – has in recent years dramatically improved the long-neglected physical condition of New York City public schools. It's an achievement we can all be proud of and we should take the necessary steps now to protect it in the future.
"Before leaving the subject of education let me add – what happens after the final school bell of the day rings is as important to students as what goes on in the classrooms. That's why this year, we also urge increased State funding for New York City's nationally recognized 'Out of School Time' program. That additional support would be in keeping with the Governor's new 'New York Youth Works' initiative.
"Like that initiative, the Governor's proposed juvenile justice reforms would also make an enormous difference in creating better outcomes for our communities and kids.
"Here are the facts of the matter. Since the year 2000, the number of kids in State institutions has decreased by more than two-thirds. And since 2007, the State has begun closing these very expensive, under-used juvenile facilities – a process that accelerated last year.
"But kids from our city still continue to be sent to the remaining facilities, some of which are hundreds of miles from the city. So now it's time to take the next logical step: Transfer to New York City government the authority, and the funds, to operate limited secure and non-secure facilities in our city.
"We have worked with the Governor for months on this transfer plan. Because the fact is that we can do every aspect of this job more effectively, saving taxpayer dollars at the same time. We have a very good track record in operating secure and non-secure juvenile detention facilities for kids awaiting hearings, which are similar to the ones operated by the State.
"Keeping a youngster at a 'limited secure' State facility, the most common type, costs roughly $270,000 per kid, per year. That's enough to send five students to Harvard for a year. We can do far better at a fraction of the cost.
"By allowing the City to keep kids more closely connected to their families, schools, churches and communities, we're confident we can improve public safety, save money and help more kids stay out of trouble and make new starts in their still-young lives. The Legislature has an historic opportunity to join us in making that happen this year.
"And before leaving the subject of juvenile justice, let me add this: Last year, the State created a new 'alternatives to detention' grant for localities. This year, we're asking you to convert that to a block grant, because we believe it would further incentivize creating these alternatives to detention.
"Let me turn now to the subject of Medicaid. We very strongly support the Governor's plan first to limit, and then eliminate, the rate of growth in the Medicaid costs borne by our City, and by the counties in the state, in the years to come.
"This is another step along the road that the Legislature started us on in 2005, by capping the growth in the local share of Medicaid at 3 percent a year.
"Nevertheless, it is still true that no other state in the union comes close to requiring localities to assume the kind of Medicaid costs that New York State does. And our ultimate goal ought to be getting our local governments out of the business of funding Medicaid, period.
"I also want to commend the Governor for including in the budget a proposal our Administration advocates. It provides that when the State closes nursing homes or reduces hospital beds used by Medicaid patients, a portion of the savings realized will fund housing for people with major medical needs.
"The Governor has also proposed reforms concerning childhood early intervention services that would save the City an estimated $30.5 million over the next four years. State law mandates evaluations and therapy for children under the age of three who have certain developmental delays. The City and State share these expenses, but currently, the City is required to pay its portion upfront, then bill Medicaid or private insurers for reimbursement.
"The Governor's plan would rationalize and streamline this process, making it far less time-consuming and costly – something we strongly endorse.
"The Legislature should also provide further mandate relief to the City in the area of Civil Service rules. The Governor's budget proposes Civil Service changes permitting State agencies' greater flexibility in hiring for certain specialized skills; the City should have that flexibility, too.
"The Legislature also needs to correct these four deficiencies in the Governor's budget concerning human services.
"First, the budget eliminates the State's share of funding for local administrative costs of child support enforcement and collection. This is walking away from a partnership that involves local administration of State- and Federal-mandated programs, and it should not be permitted.
"Second, to expedite State support for sheltering homeless adults, we urge that the current reimbursement system be converted into a local block grant.
"Third, we also urge the State to provide 100 percent reimbursement of child care costs of families receiving public assistance, instead of the current 75 percent. This will not involve any new State funds; it will give families on public assistance the same reimbursement all other families qualifying for State-subsidized child care already receive.
"And fourth, we ask you to fill a $5 million shortfall in funding for the Nurse-Family Partnership program, which is a demonstrated success in helping low-income new mothers, or those who are about to give birth, in New York City and also in Monroe and Onondaga counties.
"The Governor's budget also includes several criminal justice measures that we fully endorse.
"Our Administration was an early and enthusiastic proponent of the State criminal DNA database that was established in 2006. We now strongly support the Governor's proposal to expand this database, and require DNA sampling of anyone convicted of a crime anywhere in the state.
"In this day and age, it's fundamentally no different than taking fingerprints – which is why it's backed by police and prosecutors throughout the state. And while giving law enforcement an important new tool in solving crimes, it will, as importantly, also prevent wrongful convictions.
"We also support another reform proposed by the Governor that will increase public safety and improve the administration of justice: legislation giving judges greater flexibility in setting the appropriate length of probationary sentences, based on such factors as the prior criminal histories of the offenders before them. That would, in turn, allow probation departments to concentrate intensive supervision when and where it will be most effective.
"The Governor has, as I've said, set out an ambitious agenda. Let me point out that in New York City, we've already taken on challenges similar to those on that agenda. Our Administration's redesign of job training and placement in New York City, for example, is a nationally recognized model – one that in the past year alone placed more than 35,000 people in jobs. And we hope that the Governor's plans to streamline and consolidate job training at the State level meet with similar success.
"We've also made solar power a key element of our energy strategy for the city. So we support the Governor's proposed expansion of the sales tax exemption for solar equipment to commercial purchasers, and to expand the residential solar equipment credit to lessees of residential solar equipment.
"The Legislature, working with the Governor, last year compiled an enviable record of achievement – one that has done a lot to restore public confidence in our State government. Now I urge you to build on that record by enacting a set of programmatic measures – some longstanding, some new – that include:
"More than three and a half years ago, New York City and State leaders agreed to reactivate a marine transfer station on the Gansevoort Peninsula on Lower Manhattan's Hudson River shore. This was a key component of implementing our City's new and environmentally sound solid waste management plan.
"Because the transfer station is inside Hudson River Park, part of our agreement was that we would also sign a memorandum of understanding concerning improvements to the park that would be funded jointly by the City and State. However, that MOU still hasn't been finalized and the State funding still hasn't been set aside; let's make both those things happen this year.
"We also urge you to act this year on an item that we've advocated in the past: setting the interest rate on civil judgments against the City to the rate paid on U.S. Treasury bills, instead of the current and absurdly high 9 percent rate. This one measure would save New York City taxpayers at least $1 million a year.
"Because we want to give more New Yorkers an incentive to get in, and stay in, the job market, we also strongly support Speaker Shelly Silver's proposal for a responsible increase in the State minimum wage this year.
"We also support passage of a New York State Dream Act that will enable students whose parents brought them here illegally from other lands to receive State college loans, grants, and scholarships. It's simply not fair to blame them for what their parents did when they were only infants or small children. And it's certainly not wise to restrict their educational opportunities; instead, let's help them succeed, and contribute to our economy.
"Members of the Legislature: I'm very confident that, working together, we can enact those items; pass the urgent pension and educational measures our state needs; institute historic reforms in juvenile justice; and provide New York City, and localities across the state, with Medicaid and mandate relief.
"I look forward to working with you to make that happen; and now I look forward to your questions."