Voters continue to love the Gov, but support for effort to legalize gambling drops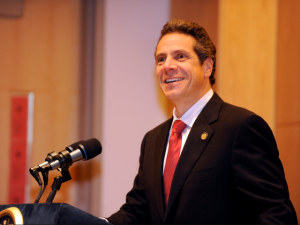 Courtesy of the Governor's office.
How many more ways can it be said: New York voters continue to give Governor Andrew Cuomo high marks--the highest of any governor in the states polled--according to a new Quinnipiac University poll.
Cuomo's job approval rating is at 69 percent among all voters, and 64 percent among Republicans. This is up ever so slightly from his 68 percent approval rating back in December. Likewise, 64 percent of those polled like him as a person.
"When will the honeymoon end? Gov. Andrew Cuomo's job approval numbers moved up last year and they stay up. New Yorkers like him as a person and, equally, they like his policies," said Maurice Carroll, director of the Quinnipiac University Polling Institute, in a statement.
They might like him, but voters are split when it comes to the process to make gambling in New York State legal.
While 54 percent of those polled supported creating a destination casino resort, on par with what's available in Atlantic City, the support for changing the constitution to do so slipped to 50 percent. And an interesting gender divide has emerged: whereas only 44 percent of women support the constitutional change, 56 percent of the men polled are in favor of it.
The poll was conducted between February 8 and 13. Quinnipiac survey 1,233 New York State voters. The poll's margin of error is plus or minus 2.8 percentage points.