Legislative minority Caucus vows to vote against redistricting proposal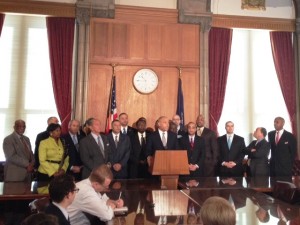 Karen DeWitt / NYS Public Radio
The Black, Puerto Rican, Hispanic and Asian Legislative Caucus--made up of members of both the state Senate and Assembly--released a statement Wednesday saying it plans to vote against the legislative redistricting proposal.
"These lines crack and pack minorities with blatant disregard to communities of interest and in some instances county lines," the statement said. "The Caucus sees it as an unparalleled power grab by the Senate Republicans to maintain their current strong holds and dilute the power of minority communities. Although it has been the traditional practice to allow each house of the legislature to determine its own lines, standing idly by as theses lines are proposed would be an injustice to our constituents."
The caucus is led by Brooklyn Democratic Assemblyman Karim Camara.
The announcement comes in anticipation of a vote on the proposal, drawn up by the majority parties in the Senate and Assembly, this week. While the Caucus members from the Senate are all in the minority party, the 34 members from the Assembly could be a problem for the Democratic leadership. Assembly Republicans, joined by the Caucus and other Democrats who have vowed to vote against the lines, could form a large enough bloc to strike down the proposal.
Members of the Caucus are holding a press conference at 10:30 am and we'll update this post after.