New York Times profiles Bob Turner, who reminds us his opponent can't vote for himself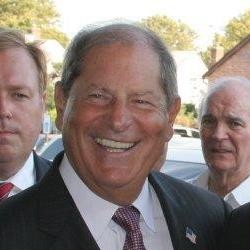 Courtesy of the Turner campaign
The quote:
"I do have an appreciation for shtick," Mr. Turner, 70, conceded with a mischievous laugh. "It draws attention to the race and makes the mundane newsworthy."
Yes, it's been noted on this blog before, as the race at times has felt like an episode of the Springer Show. The piece does go on to give some important insight into Turner's background in television that haven't been looked at in-depth before.
In other Turner news, his campaign reminded us this morning that his opponent, Democrat David Weprin, doesn't actually live in the district and won't be able to vote for himself next Tuesday:
"Bob Turner will be voting for himself next Tuesday morning; I have no idea what Mr. Weprin will be doing at the time," Turner campaign spokesman William O'Reilly said in a statement. "Mr. Weprin doesn't live in the Ninth Congressional District, but he I guess he couldn't resists running to represent it.  Mr. Weprin is a professional politician who evidently runs for everything."