Despite prisoner ruling LATFOR essentially stalled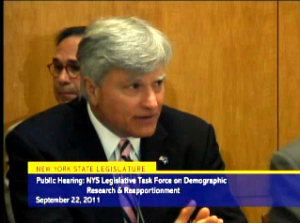 As the end of the year quickly approaches, New Yorkers are still waiting for the bipartisan, bicameral Legislative Task Force on Demographic Research and Reapportionment (quizzically acronymed as LATFOR) to produce new maps of state and Federal legislative districts. Later today, a Federal judge may rule on when the state's new Federally-mandated primary will be. Then again, he may not. As usual, the state's redistricting process is producing more questions that answer.
One thing is for sure: state prisoners, the bulk of which are housed upstate, will be counted in their last known districts. But just how that counting takes place—and how long that will take—is unknown.
"We said from the outside--and I've led the discussion--indicating that all laws are to be complied with," Senator Michael Nozzolio, one of LATFOR's co-chairs, said during a phone interview last week. "We believe that the counting of prisoners should be as inclusive as possible, and that all should be counted."
This likely means that, while the Assembly Democrats have been finished with their prisoner count for months, Senate Republicans are just now beginning the process. But the two sides haven't agreed on a counting method yet, meaning the Senate and Assembly maps could have different numbers of prisoners being counted.
The last bit of Nozzolio's statement seems to suggest his colleagues are going to take pains to scrutinize the process, and I would not be surprised if we see an initial and potentially large discrepancy in prisoner totals. Right now, according to Nozzolio, Senate Republicans are looking at about 48,000 prisoners to reallocate. Back in September, the Assembly said it could identify only about 40,000.
The other big piece, as mentioned, is the primary date. I've written in the past that, until the primary and reallocation issues were resolved, we weren't going to see any maps from Senate Republicans or the LATFOR committee. So far that's holding up. No one knows for sure how Judge Gary Sharpe will rule today. He could pick a date. He could concede to the State Attorney General's request to let the legislature pick a date starting next year. He could do something else—no one knows.
Assuming the judge actually rules today, depending on when the new primary happens will also influence when Senate Republicans are ready to come to the table. A June primary, favored by Democrats, would essentially put a rush order on maps.
If the judge sides with Republicans and goes with an August date, the pressure is greatly reduced. That would give Republicans breathing room to bring the drawing of political boundaries into the budget process.
Which brings us to the Governor's veto threat. In conversations with aides in his office, the mantra remains the same: the Governor is willing to veto the lines if he finds them to be partisanly drawn. So the question is, can Senate Republicans and Assembly Democrats find out a way to draw inside the lines, so to speak, to give Cuomo a reason to OK their maps?
This has to be weighing on the minds of both Assembly Speaker Sheldon Silver and Senate Majority Leader Dean Skelos. A veto they can't (or won't) override means the lines get handed to a judge. As we can see, no one is certain what happens when the judges take over.
This is the "chaos" the Governor was warning against. At this point, there's no sign we're any closer or further away from it.