Cuomo on deficit supercommittee: FAIL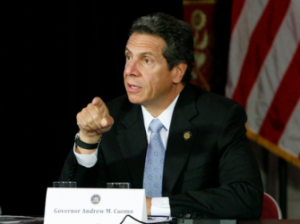 Courtesy of the Governor's office
It's official: the Federal Joint Select Committee on Deficit Reduction has failed.
And Governor Andrew Cuomo didn't have anything nice to say about the fact:
Washington's inability to get its fiscal house in order and work in a bipartisan fashion to create jobs represents a fundamental failure of government that has bred frustration and anger among the people and prolonged the worst economic conditions since the Great Depression.
That quote was taken from a statement put out by the Governor shortly before the final death cry of the supercommittee was heard. What were indefinite statements about how the "sequestered cuts"--the big $1.2 trillion in across-the-board and defense spending cuts triggered by the committee's failure--would affect New York can now be looked at as best estimates.
According to the statement, based on the current automatic cuts, "the Budget Division estimates that New York could lose approximately $5 billion in federal funding over 10 years beginning this coming fiscal year."
That $5 billion sounds like a big figure, but that averages out to $500 million per year. New York State's budget this year was nearly $133 billion, so we're talking about less than half of one percent of the budget. And considering the fact that Federal funds make up about a third of the budget, the impact on just the federal funds coming to New York State seems minimal.
No one wants to have to tack on more money to next year's budget gap--are we looking at being closer to $4 billion now?--but it's worth noting what wasn't in today's statement. Unlike last week's letter to the state's Congressional delegation, the Governor didn't mention the loss of 155,000 jobs or massive cuts to transportation, school aid or Medicaid.
Does this mean Cuomo's office now considers these areas safe for the most part? Today's statement didn't say.
This isn't to say there aren't larger, macro-economic impacts that cutting over a trillion dollars from the Federal budget could have. A good example: the markets closed down sharply today, with the Dow Jones Industrial Average down almost 250 points.These Federal cuts could come as a major economic shock to the system, hurting the already sluggish recovery.
Of course, these cuts wouldn't happen for more than a year. In numerous conversations about the impact of the supercommittee's failing, there was healthy skepticism about the cuts ever even coming about.
But that doesn't mean we should expect Cuomo to back down on the worst-case scenarios any time soon. "Sustaining a crisis mentality helps executives," noted SUNY professor Gerald Benjamin. Heading into another budget session, the Governor is surely looking for any help he can get. How and why, exactly, still remains to be seen.