Councilmen Ulrich, Sanders release Rockaway Task Force report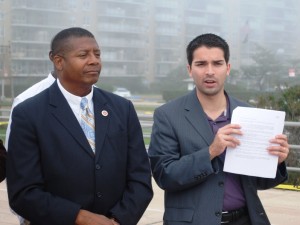 First Eric Ulrich's special election victory in 2009. Then Bob Turner's special election win earlier this month. Maybe city officials will start taking the Rockaway peninsula seriously.
Certainly the members of the mayoral-appointed Rockaway Task Force hope so. The group, chosen by City Councilmen Eric Ulrich and James Sanders, Jr., released its report today. Among the report's recommendations for improving the quality of life for the area's 120,000-odd residents included significant transportation improvements, improved beach access and concern over what the report calls "the alarmingly slow pace of economic development."
"These are realistic, practical solutions that can be implemented," Ulrich said in a statement. "I hope that City Hall will now act on these worthwhile initiatives so we can keep the momentum behind the revitalization of the Rockaways moving forward."
"Though geographically isolated and culturally diverse, our peninsula can be a leading force for economic revitalization and a unique engine of job creation in New York City, provided that we invest in those areas where we possess a clear competitive advantage," Sanders said.
The report called for among the following:
The Mayor's four appointees to the MTA should urge the MTA to eliminate this burdensome toll.
A one-year pilot program that would provide AM/PM express subway service similar to the discontinued "Train to the Plane" service should be established.
The revitalization of the Stark Mall is the key to an economic renewal of Far Rockaway as a whole.
Boardwalk infrastructure upgrades must continue. Functional beach showers should be installed in as many locations as possible. Concession development should continue with the EDC proposing possibilities.
The Rockaway Courthouse should be developed into a cultural center or educational facility.
Funding should be secured to create two additional certified evacuation teams in order to educate the community on evacuation procedure. Warning sirens should be installed throughout the peninsula.